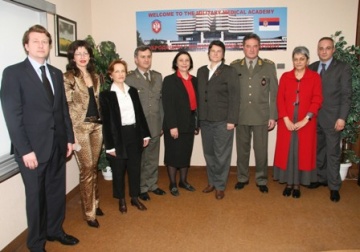 Improvement of Scientific Cooperation
23. 03. 2010
Belgrade, March 23, 2010 – Successful long-term cooperation of the Military Medical Academy with eminent scientific-education institutions in our country was formalized by signing of the Agreement on Cooperation between the Military Medical Academy, Faculty of Biology and Technology and Metallurgy, the University of Belgrade, and the Institute for Application of Nuclear Energy (INEP) in the field of scientific work and research projects dealing with fundamental and applied biomedicine
'The Military Medical Academy is a medical colossus highly oriented towards the investment into knowledge and science. Multidisciplinary approach and teamwork are preconditions for scientific progress, considered to be a flywheel for social development. ''We can succeed in our intention to follow the development of the world medicine and serve for the general well-being only if we join our efforts', said the MMA's head Major General Prof. Dr. Miodrag Jevtić on that occasion. However, as pointed out by General, this act meant the formalization of previous and the beginning of better and more extensive future cooperation.
Satisfaction with cooperation established with the Military Medical Academy as well as great expectations about its further advancement were expressed by leaders of education-scientific and research institutions present to that occasion.
The dean of the Faculty of Biology in Belgrade, Prof. Dr. Jelena Knežević-Vukčević said that there was a long tradition of joint work of those two institutions in the field of biomedical science and profession as well as education, and stressed what significant contribution the MMA's experts had given to a great number of research projects run by this Faculty.
The dean of the Faculty of Technology and Metallurgy in Belgrade, Prof. Dr. Ivanka Popović said that today's event was very important for both institutions. ''For decades, our people recognizes the Military Medical Academy as an elite national institution, and for that reason, we express our great contentment with the established cooperation', said Prof. Popović.
Director of the INEP, a Research Fellow, Dr. Ljiljana Vićovac-Panić said that the MMA and INEP had developed a long-tern relationship and cooperation in the fields of nuclear medicine, immunology, microbiology and other branches of medicine as well, what many good results they had achieved confirmed, and added that there was always enough space for achieving more and better.
The formal signing ceremony of the Cooperation Agreement was held in the presence of the Academician Col. Prof. Dr. Miodrag Čolić in the capacity of the MMA's scientific-research project coordinator, and the dean of the MMA's School for Advanced Medical Studies, Prof. Dr. Mirjana Životić-Vanović the head of the Sector for Education and Scientific-Research Work, and Assist. Prof. Dr. Elizabeta Ristanović, the head of the Morale and PR Department.