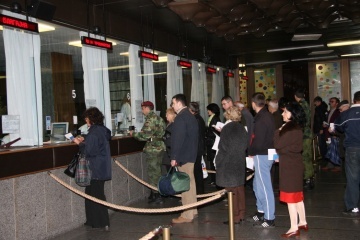 Improvement of the Outpatient Diagnostic Clinic's everyday practice
11. 02. 2009
As the largest organizational unit of the Military Medical Academy, the Outpatient Diagnostic Clinic carried out all of MMA Management missions set for 2008. Outpatient treatment and prevention of most chronic non-contagious diseases in military patients and their family members was and is still the most important responsibility of all staff members of the Outpatient Diagnostic Clinic as well as diagnostic institutes and clinics that participate in it within the framework of their everyday clinical practice.
Exactly 305.135 specialist and sub-specialist examinations and 145 000 various diagnostic interventions were carried out by specialists in 51 specialist wards, 11 functional diagnostic units, the Center for the Same Day Surgery and pediatric and women's clinics, That is up about 2 percents from the previous year. Those figures should be enlarged by another 6.629 surgeries under general and local anesthesia performed in 5 operating rooms of the Center for the Same Day Surgery.
A team of 61 specialists stands behind those impressive results. Out of them, 13 are PhD holders with full time, associate or assistant professor titles.
However, those well-organized teams of physicians are supported by well-trained and experienced medical technicians and paramedics as well.
Having signed the Contract with the National Institute of Public Health. on 01.01.2008, the Military Medical Academy has incorporated a part of its capacities for out- and inpatient treatment of national patient population into the Public Health System. Under that Contract, 32.197 patients were referred to Outpatient Diagnostic Clinic for pharmacological and surgical treatment in 2008.
The number of specialist outpatient services rendered to civilian patients through the NIPH referral was about 10% of all services provided on outpatient basis last year, what, once again, has confirmed that Military Medical Academy primarily serves the military patient population.
Better organization and larger investments into the improvement of primary and secondary health care of the military patients would ensure the Outpatient Diagnostic Clinic to deal only with tertiary care. That would significantly add to the quality of health care for both military and civilian patient population.
ISO standardization and the accreditation of the Military Medical Academy for quality standards 9001, 14000 i 22000 would additionally contribute to the improvement of the quality of Outpatient Diagnostic Clinic's and MMA's practice.
Performance of such crucial and large tasks revealed some weaknesses occurring occasionally in routine everyday practice. They mostly related to longer waiting time for scheduling certain specialist outpatient appointments, diagnostic interventions and services.
Introduction of medical appointment scheduling software offers both military and civilian patients the opportunity to book all required specialty care visits within morning and afternoon operating hours by dialing to the Outpatient Diagnostic Clinic's Appointment Office or directly through that Office. Thus, patients would be given a fixed appointment date and time for seeing a specialist in a certain specialist ward or functional diagnostic unit.
Lapses of good manners of our patients, their attempts to avoid due procedures, their delays and unjustified cancellations result occasionally in unnecessary crowding in the waiting room, complaints and dissatisfaction of both the users and providers of medical services.
Rapid technological renovation of the Military Medical Academy defined by the MMA Management and the Ministry of Defence as a priority would resolve all the problems relating to long waiting times for CT or MRI what would, in general, help speed up diagnostic procedures and improve the quality of health care for military and civilian patients
In addition, new equipment for contrast x-ray imaging of blood vessels of the head and heart, hyperbaric chamber, new MRI machine and equipment for minimally invasive surgery would considerably expand the array of services the MMA offers to its patients on both in- and outpatient basis.
In general, the MMA Management is never satisfied with its achieved results. It goes for the improvement of the outpatient specialty care as well. Therefore, it haa announced undertaking of new activities. Namely, by the order of the MMA head Major General Prof. Miodrag Jevtić, PhD, the reorganization of the Outpatient Diagnostic Clinic's practice been initiated. It implies the engagement of the most experienced physicians including all teachers, heads of clinics as well as the MMA head himself in the Outpatient Diagnostic Clinic's everyday practice what, thus, would contribute to considerable improvement of the quality of health care for both military and civilian patient population.