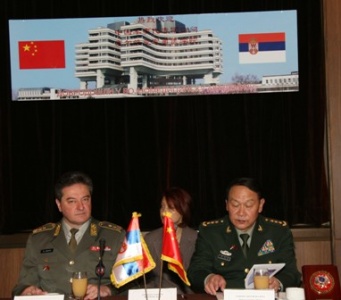 In the Glory of the Serbian Science: Ecology, Health, Sport and Human Environment
10. 09. 2009
Belgrade, September 13 – On the occasion of the 130th anniversary of the birth of Milutin Milanković, a Serbian scientist who obligated the humanity with the cannon on global warming and its effects on climate change and ice era creation, the International Scientific Meeting on Ecology, Work, Health and Human Envinronment was held in Banja Luka. Participation of the MMA's experts Elizabeta Ristanović, Sonja Radaković, Srđan Lazić and Nikola Čikiriz gave a considerable contribution to that event.
A plenary lecture on Climate Change and Microorganisms was delivered by Research Fellow Dr. Elizabeta Ristanović, who stressed that infectious diseases resulted in the death of 15 million of people each year. ''In spite of great progress in medicine, we have won neither battle nor war against infectious diseases. Climate change affects all human population around the globe and living creature of every kind on our planet, such as microorganisms, their reservoirs, sources and vectors, thus making it more difficult to predict the real impact of climate change on infectious disease dynamics. However, based on our existing knowledge, we can assess which one of them may constitute a threat in the future. It, of course, involves diseases with complex transmission cycles, vector diseases in particular such as dengue fever, hemorrhagic fever, tularemia, Lyme diseases, malaria and many other newly occurred diseases'', said Dr. Ristanović.
Assist. Prof. Dr. Sonja Radaković, the Head of the MMA's Hygiene Institute presented results and findings of the MMA's experts on the importance of acclimatization and the impact of thermal stress to the human health.
LtCol. Assist. Prof. Srđan Lazić and Capt. Dr. Nikola Čikiriz presented in their papers our experiences in providing medical support to mass sports events with a special retrospective look at the Universiade 2009 recently held..