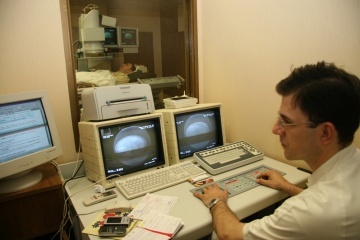 Innovations in the treatment of the urotract calculosis
08. 02. 2009
 Following the latest world trends in the diagnosis and treatment of the calculosis of urinary tract and, in order to respond to ever growing number of national patients affected by that disease as well as the referrals from surrounding countries, the Military Medical Academy has initiated the foundation of the Center for Diagnosis and Treatment of Calculosis, the only one of its kind in the region. 

The purpose of its establishment is to combine human resources and functional aspects of this problem. Thus, at its best, it would enable the patient treatment to be combined, simplified and improved. In that way, complete diagnostic and therapeutic treatment and long-term follow-up evaluation of those patients would be possible to provide.

In that sense, the ESWL Department, already dealing with complete diagnostic examinations, metabolic investigation of calculosis and extracorporeal lithotripsy ( a medical procedure for breaking up kidney and urethral stones) is equipped with the state-of-the-art apparatus for extracorporeal lithotripsy which none of medical institutions in these areas currently hold. Namely, this technology provides a wide spectrum of energy, the possibility of using this method in extremely obese patients, sophisticated x-ray and ultrasound navigation, double focus –one on the kidney and the other on the urethral stone as well as other numerous possibilities that greatly simplifies the treatment of calculosis, increases the efficacy of the method and considerably reduces the percentage of complications. Wide range of metabolic investigations are supported by hygiene-dietary regimes prescribed for each patient. High quality diagnostic ultrasound and color doppler ultrasound procedures and nephrological evaluation of patients as well are also offered.

Establishment of this center provided with adequate endourological and surgical support, would ensure, to the satisfaction of both the patients and physicians, conditions for the emergency diagnosis and treatment of patients by applying the most advanced methods.