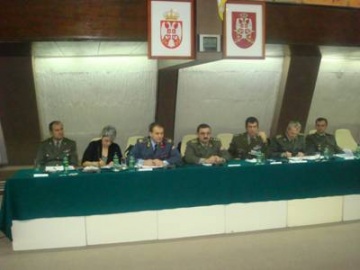 International Conference on Education of Future Officers
05. 12. 2009
Belgrade, December 5, 2009 – In the organization of the Republic of Serbia Ministry of Defense, the international conference titled ''Required knowledge of the Serbian Armed Forces Officers 2010-2020'' was held in the Guard Club on Topcider, on December 3-4, 2009. Along with the national participants, there were rectors, deans and professors from the military educational institutions in the Czech Republic, France, Belgium, Croatia Slovac Republic, Great Britain and Hungary participating in the work of the Congress.
Aimed at improving the quality of education for future officers, presentations and discussions were the opportunity to share experiences about the structure and levels of knowledge required for officers in some countries.
Professor Dr. Mirjana Životić-Vanović, the head of the MMA's Sector for Education and Scientific-Research Work spoke about the education of medical officers in the Serbian Armed Forces. After a brief presentation of the existing system of education for military physicians, she explained the reasons due to which a new approach within the framework of professional military education system reform was chosen. That approach has been applied since this school year with the enrollment of the first generation of cadets in the medical study programs offered at the MMA's School for Advanced Studies. In addition, she presented the draft plan for further improvements of professional military education system in general.
The Congress ended with the conclusion that continuous control of education quality, curriculum revisions and innovations coupled with new teaching methods could serve as the basis for the education system for future officers.