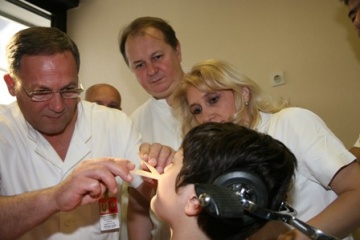 International Congress of Maxillofacial Surgeons
28. 10. 2010
Belgrade, October 28, 2010. – The head of the MMA Clinic for Maxillofacial and Oral Surgery and Implamtology and the president of the Serbian Association of Maxillofacial Surgeons, Colonel Prof. Dr. Nebojša Jović is the cief scientific and professional coordinator of the XXV International Congress of Maxillofacial Surgeons and the 2nd Meeting of the Balkan Maxillofacial Surgeons which are taking place in Belgrade from 27th - 30th of October, 2010.
  
The active part in the Course would be taken by 230 experts – maxillofacial, plastic and oral surgeons, neurosurgeons and implantologists from 30 countries in Europe, Asia and America, and the most eminent world experts in this field would deliver introductory lectures.
 
During the Congress, a Course on Traumatology of Maxillofacial Region and a Course for medical technicians caring for maxillofacial patients would be organized. The MMA experts of various surgical specialties would give a significant contribution to the work of this Congress by delivering their lectures.