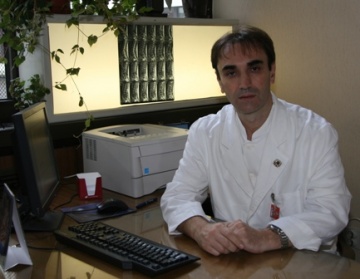 International Congress of Neurological Surgeons
09. 11. 2009
 Belgrade, November 9, 2009 – On October 24 to 28, 2009, the Congress of the International Association of Neurological Surgeons was held in New Orleans, U.S.A., with participation of several thousands experts from many countries of the world. 
This Association is a leading professional association of neurological surgeons in the world, and it is established with the aim of continuous sharing scientific information, extending knowledge and improving and advancing practice in the field of Neurosurgery. This Association launched the two most influential neurosurgical magazines: Neurosurgery and Operative Neurosurgery.
One of the participants was the MMa's neurosurgeon, Col. Assist. Prof. Dr Milan Spaić who took a part in the work of the Congress in the capacity of the Association's active member. His paper titled Minimally Invasive DREZ Operation – Experimental Surgical Evidence, (the authors Spaic M., Houlden D., Schwartz M) was presented among the ten best papers in the field of surgery.
This paper was the result of an experimental joint project of the Military Medical Academy and the Toronto University dealing with the minimally invasive treatment of the spinal cord injury pain within a short period of time.