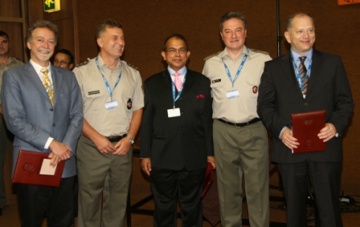 International Symposium of Ophthalmologists held at MMA
10. 09. 2010
Belgrade, September 10, 2010. – The Military Medical Academy hosted today the 3rd International Symposium on '' Contemporary Trends in Ophthalmology''. That event brought together more than 500 ophthalmologists from Serbia, Montenegro, Republic of Srpska, Bosnia and Herzegovina, Macedonia and Croatia. A particular contribution to the work of the symposium was given by the most eminent world's ophthalmologists Prof. Dr. Thomas John from the Loyola University of Chicago, a leading cornea surgeon   and a visiting professor of the Military Medical Academy, Prof. Dr. Klaus Luke from Bremen, Germany, the president of the European Association of Vitreoretinal Surgery, and Prof. Dr. Nikica Gabrić from Zagreb, Croatia who delivered fascinating introductory lectures. 

 The Symposium was opened by the MMA's head, Major General Prof. Dr. Miodrag Jevtić who extended a cordial welcome to the present on that occasion for coming to our temple of health.

'' I am extremely pleased to be here, standing before the amphitheater crowded with experts, top ophthalmologists from the whole region, and happy to recognize among them leading figures in the world ophthalmology. This event is another practical fulfillment of the vision of the MMA's Management, that is we want our institution to be a site for holding professional and scientific  events, sharing of knowledge, skills and experience within a joint mission: in the service of health and progress of medical thought.!'', said General  Jevtić.

'' Today, the Military Medical Academy is  again a prestigious place to come, our experts are leaders in many fields of medicine, and are willing to share all their knowledge with the others, just like our doctors from the Eye Clinic are doing now. They would walk you through the latest achievements in the Eye surgery by performing live surgeries'', stressed General Jevtić.
 
The head of MMA's  Eye Clinic Col. Prof. Dr. Miroslav Vukosavljević, thanked all  the colleagues present to that occasion, and gave them a short introduction on the novelties in  the anterior- posterior  eye segment surgery, excimer-laser refractive surgery and surgical techniques in the treatment of glaucoma and strabismus which were later demonstrated  in live surgeries performed by our eye experts and broadcasted directly from the MMA's operating room via video-link.

''So far, we have performed more than 2000 excimer laser vision correction procedures. Today, we would like to present you  novelties in phaco-surgery  performed through a 2,2 mm incision  with aspheric multifocal 'so called' premium lens implants which  allow for good correction of  vision   from near to far'', said Vukosavljević.

The MMA's ophthalmologists demonstrated to their colleagues an aspheric toric lens implantation technique for correction of astigmatism, the latest microincision  virectomy technique,  anterior- posterior  eye segment surgical  techniques in the treatment of cornea ablation, injuries, diabetic retinopathy, etc. Rare techniques in strabismus and glaucoma surgery were also shown.