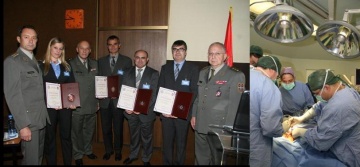 International Symposium of the Chest Surgeons
08. 10. 2010
Belgrade, October 8. – Our institution hosted an international symposium of the thoracic surgeons devoted to video-assisted thoracoscopic surgery and cervical mediastinoscopy.

The symposium brought together over a hundred of chest and cardiac surgeons, anesthesiologists, pulmologists, cardiologists and other specialists from our country and the region.

The attendees to the symposium were extended a warm welcome to the Academy by the MMA's deputy head Col. Prof. Dr. Nikola Filipović who wished them to make that symposium a great success.  


 ''Welcome to the MMA, to the Balkan and Serbian center of the health and science. Under the same roof of this institution, there are over 3000 experts of various profiles, who create health through interdisciplinary team work, and who, being   well aware of the fact that medicine knows no limits, are willing to share everything they know with others and to learn from them as well. That is what we are demonstrating by our actions and this event taking place here and now, and for that, I would like, once again, to thank our dear colleagues Prof. Dr. Ramon Rami-Porta, Prof. Dr. Balda-Sanchis and Mrs. Laura Butkereit from Spain and Prof. Dr. Martin Hurtgen from Germany for accepting our invitation to come here and report on their experiences gained  by the application of highly sophisticated methods of thoracic surgery such as video-assisted thoracoscopic procedures in the treatment of lung cancer, which is unfortunately becoming   a serious actual and frequent  medical concern, and to perform as well live surgeries together with our experts, and demonstrate their expertise and skills. Our experts are led by Col. Prof. Dr. Vojkan Stanic, the head of the Clinic for Thoracic Surgery, and Col. Dr. Vlado Cvijanović, a man of great knowledge and experience, who, during his study tour in Barcelona, managed to establish precious professional contacts, the result of which is today's symposium', said Col. Filipović.

Col. Prof. dr. Vojkan Stanić expressed his gratitude to the eminent European chest surgeons for the established cooperation and the acceptance of our invitation to come and visit us. He further presented the symposium agenda to   the attendees. 
 
Thanking for a warm welcome and reception, Prof. Dr. Ramon Rami-Porta  said that even though he had had the opportunity to learn a lot about the MMA and its achievements, he was impressed very much with everything he saw today. ''Your institution is a real medical giant, and I am really happy not only to be given the  opportunity to demonstrate what we do, but to have a chance to learn a great deal from my colleagues, who gained unique practical experiences in the domain of war surgery', said Prof. Porta.
 
During the symposium, attendees were introduced into the basic principles, the place and  role of video-assisted thoracoscopic surgery and cervical mediastinoscopy in the diagnosis, staging and determination of optimal therapeutic modalities for bronchogenic carcinoma of the lung.
 

Techniques of those interventions were practically demonstrated through live interactive broadcasting of those surgeries   via videoconference link established in the amphitheater, what enabled the attendees to interact with the surgical team in the operating room.

The experts from the MMA's Clinic for Thoracic Surgery, Col. Prof. Dr. Vojkan Stanić and Col. Dr. Vlado Cvijanović  stressed in their introductory lectures the significance of the video-assisted method in the diagnosis and therapeutic treatment of bronchogenic lung carcinoma. The guests from Spain Prof. Dr. Ramon Rami-Porta i Prof.Dr Jose Balda-Sanchis presented their results achieved with the extended cervical mediastinoscopy  used in the staging the  bronchogenic left lung carcinoma, as well as with video-assisted mediastinoscopic lymphodenactomy,  both demonstrated  during live surgeries. Prof. Dr. Martin Hurtgen from Germany delivered a lecture on video-assisted lung lobectomy.
 
This symposium was accredited by the Serbian Health Council.