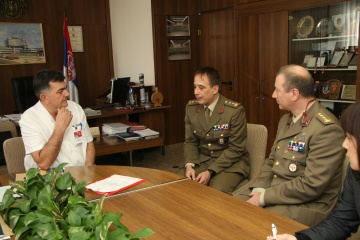 Italian Military Physicians at the MMA
16. 12. 2011
The two representatives of the Medical Department of the Italian Military Medical Services visit the Military Medical Academy within the framework of the bilateral cooperative partnership with the Republic of Italy.
The Italian plastic surgeon, Col. Dr. Pierluigi Kampine shared his experiences with his counter-parts from the Clinic for Plastic Surgery and Burns, while a transfusiologist Lt.Col. Dr. Guido Buceta talked with the personnel of the MMA Blood Transfusion Institute.
During the discussions with the Italian colleagues, the MMA head, Brig.Gen. Prof. Dr. Marijan Novaković said that the cooperation carried out through the involvement in the hospital practice, i.e. a routine daily clinical work, is the best way that allows them to share information and learn from each other, with the aim of improving the quality of health care. That would be, at the same time, a significant contribution to very good bilateral military cooperation with the Italian side.