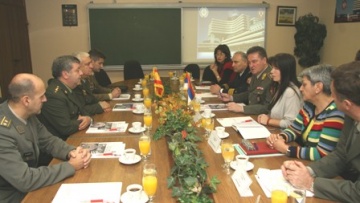 Joint Initiative and Experience Sharing: Cooperation between Serbia and Spain
17. 11. 2010
Belgrade, November 17, 2010. – The Military Medical Academy and its Management were the host to the three-member delegation of the Kingdom of Spain Armed Forces led by the Surgeon General of the Military Medical Services, Brigadier General Julio Rivera.

Spanish delegation members received a warm welcome from the MMA's head, Major General Prof. Dr. Miodrag Jevtić.'' I am very happy for my closest associates and I have such an opportunity to present to the colleagues from Spain, the capacities and capabilities of this medical city which produces health care working hard and applying the latest achievements of the medical profession, and scientific methods, along with continuous education and training of not only its employed experts but the young generations of our military medicine'', said General Jevtić.

Following a warm reception, the guests from Spain attended a detailed presentation of the MMA's ID, contemporary principles applied in organizational structuring of the Treatment Service, academic potentials and experiences of the MMA's members gained in UN-led peacekeeping missions.

''I am impressed with the quality and quantity of work your institution carries out, its   technical capacities, research and educational capabilities, and standards reached in the organizational domain'', said General Rivera notifying that there was an exceptional   friendship between Serbia and the Kingdom of Spain formed in the past, which obligated us to permanently work on its advancement in all domains, including cooperation between those two Military Medical Services.

The members of the Spanish delegation expressed a particular interest in learning about the experiences of the members of our AF Military Medical Services and the Military Medical Academy deployed to UN peacekeeping missions, and signified the possibility of joint work in that field.

General Jevtić reiterated that its members were highly motivated and committed to building cooperation, provided that it was previously    agreed within the framework of bilateral military cooperation between the Defence Ministries of the two countries.