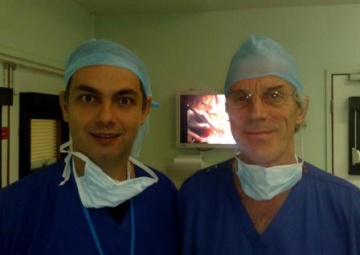 Keeping Pace with the World: St.Marry Hospital and MMA
04. 01. 2010
Belgrade, January 04, 2009. – Under the decision of the MMA's Management Board and upon the invitation of Prof. Dr. John Wolf, an eminent Britain vascular surgeon and president of the European Association of Vascular Surgeons, Major Ivan Marjanović, a physician from the MMA's Clinic for Vascual Surgery underwent advanced training program in St. Marry Royal Hospital in London (Great Britain) from September to December, 2009. This hospital is an integral part of the prestige Imperial University.
During his stay in London, Major Marjanović had the opportunity for professional development in the area of reconstruction of chest and abdominal aorta by an open, endovascular and hybrid reconstructive technique. For demonstrated level of his professional knowledge, professionalism and commitment, Major Dr. Marjanović was awarded membership of the Royal Assocaition of Vascular Surgeons of Great Britain and Ireland at the initiative of the Board of the Vascual Surgery Clinic's St Marry Hospital.
Cooperation between the Military MedicalAcademy and st. Marry hospital would be continued in the future, and within that cooperation framework, in spring of 2010, Prof. Dr. John Wolf will pay a visit to the Military Medical Academy, during which he is expected to perform, together with the MMA's experts, several reconstruction surgeries including repairs of aneyrism of the chest and abdominal aorta..
Continuous education and training of medical personnel and keeping abreast with the world achievements in all fields of medicine is a strategic goal of the MMA's Management Board, in favor of what speaks the fact that, in 2009, the MMA's physicians have had the opportunity for advanced professional development and training in eminent European and world healthcare centers.