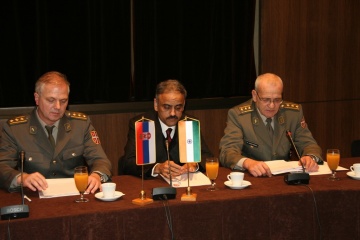 Leading Indian Transplantation Expert at the MMA
02. 12. 2011
Today, the Military Medical Academy has been the host of a leading Indian surgeon and transplantation expert Prof. Dr. Sandip Guleria, who delivered a lecture on the latest trends in transplantation with a focus on laparascopic nephrectomy.
During the Opening Session, the introductory speeches were given by the head of the MMA Nephrology Clinic Col. Dr. Zoran Kovačević and the head of the MMA Solid Organ Transplantation Center Dr. Neven Vavić. The Ambassador of India accredited to Serbia, Her Excellency Nengcha Lhouvum Mukhopadhaya was among the guests present to the lecture.
Dr. Guleria has performed over 2000 kidney transplant surgeries. He is a pioneer of cadaveric transplantation in India, and the one who performed the first kidney and pancreas transplant in India. He also developed the Laparascopic Donor Nephrectomy Program, Pediatric Renal Transplant Program as well as the Donor Card Program in New Delhi, India.
Currently, he works in the Apollo Hospital's Surgery and Transplantation Unit in New Delhi, India, and serves as the vice-president of the Indian Organ Transplantation Society and the Indian Society of Endoscopic and Laparascopic Surgery.
He published over 80 medical papers and monographs. He is a visiting professor in Edinburgh and Glasgow.