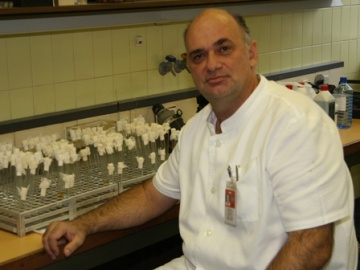 Lecture on a New Flu Virus
06. 11. 2009
Belgrade, November 6, – LtCol. Assist. Prof. Dr. Srđan Lazić, the deputy head of the MMA's Epidemiology Institute, presented a lecture on epidemiological characteristics of a new A(H1N1) influenza to the Institute's staff members.
LtCol. Dr. Lazić introduced all the present to that lecture into the current epidemiological developments in the Republic of Serbia, addressing in particular the novel H1N1 flu situation within the Armed Forces. The largest portion of his lecture was devoted to the flu prevention measures.
'' There is no room for panic; however, all the individual and public prevention and control measures should be taken in response to a novel H1N1 flu, particularly within communities such as the military'', said LtCol. Lazić.
During the lecture, Dr. Lazić focused on the most important protection measures the individuals should take. Those measures include avoiding mass gatherings, particularly those taking place in-doors, common social greeting practices such as shaking hands, hugging, kissing people as well as other close-proximity forms of greeting, regular washing hands with soap and clean running water (avoiding touching the eyes, mouth and nose with dirty hands)
'' Individuals having flu like symptoms should stay at home, keep at least 1 meter distance from the others, cover their mouth and nose with disposable tissues while coughing and sneezing and immediately throw them in the dustbins. The individuals with mild flue symptoms are advised to receive symptomatic pharmacological therapy (bed rest, consumption of plenty of water to replace lost water, the use of drugs for reducing a high temperature). If a high body temperature lasts for more than 3 days, the health care provider should be seen, or if breathing problems such as heavy or shallow breathing are developed, an appointment with the GP should also be immediately scheduled. Healthcare workers in the first place and all the others who have been in contact with individuals suspected to be infected with a new flue virus are advised to use personal protective masks that cover their nose and mouth. All those having upper airway symptoms (sneezing, dry cough, watery nose, etc.) are expected to use masks to prevent the other people from being infected. Antivirus drugs should not be taken on one's own, for they do not prevent the disease'', stressed Dr. Lazić. He also added that, in addition to those individual protection measures to be taken within the military community, it should also have certain regulations in place regarding the distance between beds, bedrooms occupancy, control of implementation of personal and general hygiene measures, avoidance of all kinds of indoor group activities, isolation of soldiers with respiratory symptoms and carrying out all other protection measures in response to acute infectious respiratory diseases.
Dr. Lazić reminded the staff members of the Military Medical Academy that the vaccination is the best protection against the flue.