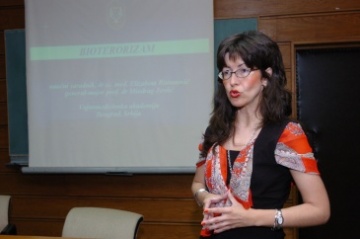 Lecture on bioterrorism delivered at the National Defence School
19. 05. 2008
Belgrade, May 17 - Within the framework of cooperation between the National Defence School (NDS) and the Military Medical Academy (MMA), the students of this School trained to be the future commanding staff of the MoD and the AF of Serbia attended the lecture on   bioterrorism as a challenge delivered by a research fellow Elizabeta Ristanovic, MD, PhD. Addressing the students, the head of the Military Medical Academy Maj.Gen. Prof. Miodrag Jevtic, MD, PhD said that he is very proud that MMA has experts of such a profile capable of coping with the largest challenges of this era,   one of which bioterrorism is, and that MMA would give its full  contribution to that field. He also welcomed joint activities and cooperation developed between the Military Academy and the Military Medical Academy undertaken in that direction.

Doctor, Elizabeta Ristanovic enlighten the importance of terms such as bioterrorism and biological warfare agents and spoke about the background and modalities of concealed but effective use of  biological weapons considered to be the challenges tracking its time. It is so easy and chip to produce biological warfare agents and it might have deterrent proportions in the era of intensive development of genetic engineering and biotechnology.

If in the 20th century, physics played a dominant role in the development of weapons for mass destruction, the 21st century would, it is certain, be marked by molecular biology – stressed doctor Ristanovic.