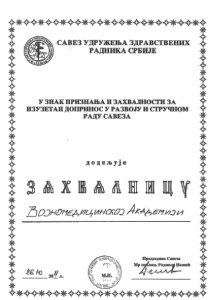 Letter of Thanks to MMA Awarded by the Serbian Health Worker Association
02. 11. 2011
The First Class Congress of the Serbian Association of Health Workers titled ''I can, I want, I know'' was held on Zlatibor, on October 26-30, 2011.
The Congress was taught by a combination of lectures, educational seminars, oral and poster presentations. Information about professional papers, scientific researches, new ideas and technologies as well as their application in daily practice were shared with the aim of improving care for population health.
The Congress was attended by over 800 health workers and co-workers of all profiles from both the country and foreign countries such as England, Macedonia, Slovenia and the Republic of Srpska. There were also 15 health professionals from the Military Medical Academy who actively took part in the event by delivering oral presentations.
Among the organizers of the Congress, the lecturers who delivered lectures at the educational course within the Laboratory Technicians Association were Lt.Col. Dr. Janko Pejović, the head of the MMA's Medical Biochemistry Institute and Prof. Dr. Boris Ajdinović, the head of the MMA's Nuclear Medicine Institute. Topics of their lectures were 'Cardiovascular-disease risk markers'' and the ''Lung Scintigraphy'' respectively.
The Steering Board headed by the president of the Serbian Health Worker Association, Dr. Radmila Nešić, awarded the MMA' health workers a Letter of Thanks as a token of appreciation and thanks for exceptional contribution to the development and professional work of the Association.