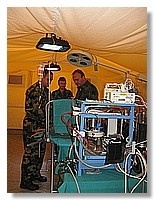 Light Field Hospital already deployed in the Bujanovac spa area
11. 11. 2008
Bujanovac, November 11 - The Light Field Hospital deployed in the Bujanovac spa area has started operating. In the period from 11th to 15th November, doctors and medical staff from the Belgrade Military Medical Academy, Niš Military Hospital, Belgrade Center of Military Health Care Facilities and Novi Sad Military Medical Center would offer local population of the Pčinj District medical services in a variety of fields such as surgery, internal, general and dental medicine. There have been 22 doctors and 30 medical technicians involved in providing those services.
''Our goal is to get the services of the Military Medical Services closer to inhabitants of the towns of Vranje, Preševo and Bujanovac and surrounding area and, thus, to contribute to the development of civil-military cooperation in the South of Serbia. At the same time, our intention is to provide through lectures and consultative examinations support to the Civil Health Service in this region'' said the commander of the Light Field Hospital Colonel Nikola Zec, MD.
The services of the Light Field Hospital would be available to local population until 15th of November when the hospital would be deployed to the international military medical exercise ''Save path 08''. The exercise is scheduled to take place in the period from 16th to 20th of November and will to be carried out by the military medical personnel from the Republic of Serbia, the Kingdom of Norway and the Republic of Macedonia. The director of the exercise will be the head of the Military Medical Academy Major General Prof. Miodrag Jevtić, MD, PhD.