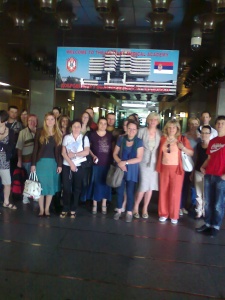 MMA – Exchange of expert knowledge and experience on a national and international level
25. 05. 2011
Pharmaceuticals
Institute of Pharmacy of MMA hosted a seminar held in the period from May 20-25, 2011, under the organization of the European Association of Hospital Pharmacists. "Hospital pharmacists as part of the therapeutic drug committee" and "Patient safety: Role of hospital pharmacists in risk management" were topic to which the seminar was dedicated. Participation of hospital pharmacists from former republics: Slovenia, Croatia, Bosnia, Republic of Srpska, Macedonia, Estonia, Slovakia, Czech Republic, Bulgaria and Serbia gave an international character to this convention. Lecturers and organizers of the convention were experts from Austria and Italy.
As part of the visit, a tour of the Institute of Pharmacy of MMA was organized, where MMA was presented to the guests as a tertiary health care facility, and the place and role of the Institute of Pharmacy as its organization body in charge of providing medications and medical devices for treatment, preventive medical and scientific research work.
Considering the international character, this convention was the opportunity for exchange of expert knowledge and experiences, for establishment of contacts and for affirmation of our establishment.

 
MMA's pharmacists at the First Congress of Pharmacists of Montenegro
Only one week earlier, MMA attended the First Congress of Pharmacists of Montenegro and participation of its representatives, military officer Professor Dr Mirjana Antunović, Chief of Pharmacy Sector, Professor Dr Silva Dobrić, Chief of Institute for Scientific Information, and assistant Mr. Sc. Aneta Perić, specialist of pharmacological information, was well noticed.
Congress under the slogan "Pharmacy: Yesterday, Today, Tomorrow" was held in the period from May 12-15, 2011, in Bečići, under the organization of Pharmaceutical Chamber of Montenegro and Faculty of Pharmacy in Podgorica, and in cooperation with the Agency for Medicines and Medical Devices, under the sponsorship of Montenegrin Ministry of Health. The congress was dedicated to topics in the sector of pharmaceuticals, with a special emphasis on the latest achievements in the scientific domain and with an overview of the regulations in the pharmaceutical sector. "The role of a hospital pharmacist as the carrier of pharmaceutical protection" was the topic of a lecture that Professor Dr Mira Antunović held at this international convention.