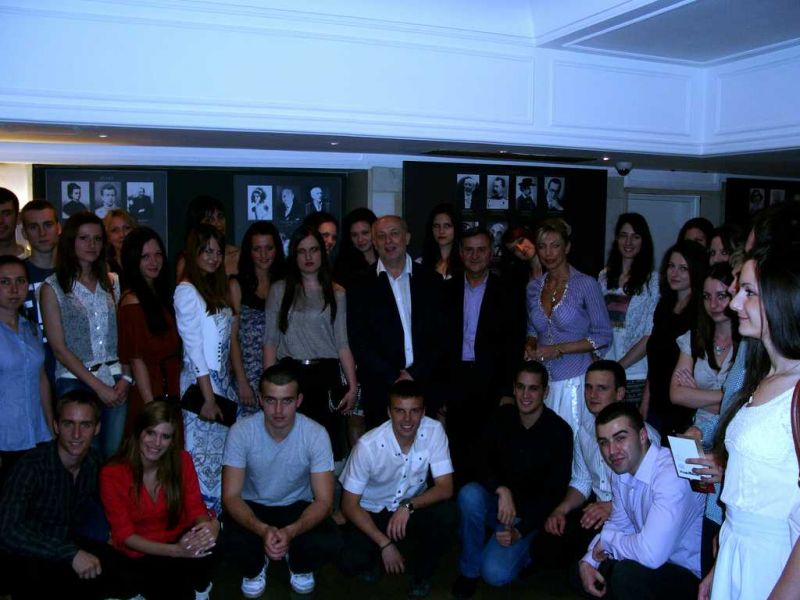 MMA Medical Faculty Cadets in the National Theatre
15. 06. 2012
In course of the several hours visit, cadets led by Faculty Dean Brigadier General Academician Prof. Dr. Miodrag Čolić visited the building and Museum of the National Theatre and enjoyed on the Main Stage looking the Opera "Troubadour" by Giuseppe Verdi.
On the reception prior to the play, Brigadier General Prof. Dr. Čolić who is performing duty of MMA Medical Faculty Dean since November 25, 2012, expressed his gratitude to the manager Božidar Đurović and curator Zorica Janković on the warm welcome pointing out that the stay in the National theatre represents for him and cadets a great pleasure.
He addressed a particular compliment to the complete museum exhibition estimating it as "a fantastic thing".
- I was already here for several times. I'm enjoying in the complete installation. For me the most interesting part is historical. Each time it reminds me to same artists forgotten by the many, but on the other side it is nice to go back in that time when they created - said General Čolić, a regular member of the Serbian Academy of Sciences and Arts since 2009.
Mr. Đurović emphasized that this visit is just one of the numerous activities realized between these two respective institutions collaborating successfully more than a decade.
- Kindness and concern of the MMA to the National theatre employees can not be expressed in words. We are giving the efforts that MMA employees and Medical School cadets feel here homelike. I wish them a worm welcome and hope that we will spend more time here and much less at the Military Medical Academy as its patients. However, the important fact is that we know where to refer to in the hard moments, because every friendship and loyalty is confirmed not in time of joy but trouble and sadness. During all the problems MMA has always been supporting the National theatre - Đurović reminded.
Jelena Isailović, the MMA cadet, couldn't hide her enthusiasm with the museum exhibition pointing out that there weren't the right words for describing it.
- It is really nice to see the history of National theatre in one place as well as its development through all these, about, 150 years. I'm especially delighted by the costumes. They are adorable - she said.
Her colleague Svetozar Stanković admitted that this was his first visit to the Museum of the National theatre and its complete installation made a great impression to him. He selected a scenographic model made by Vladimir Marenić for the play "Macbeth" and costume of Ljubinka Bobić from the play "Gospodja ministarka" as something special and distinct.
It was the first time in Museum also for the cadet Sandra Marković who estimated that the place "has a special look, charm, it isn't impugn, but done with a style."
The MMA Medical Faculty operating within the framework of University of Defence in Belgrade has been accredited in April 2009 by the Commission for accreditation and quality control.