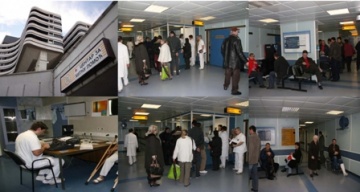 MMA - On Wednesdays, Serves as the Emergency Center of the Serbian Health Service
04. 02. 2010
Belgrade, March 04, 2010 – Based on the Agreement between the Ministry of Defense and Ministry of Health of the Republic of Serbia, as of March 03, 2010, the Military Medical Academy has assumed the responsibility to provide immediate support to the Emergency Center of the Serbian Clinical Center in medical management of patients in life-threatening conditions.
Thanks to timely made preparations and exceptional professionalism of the engaged personnel of the Military Medical Academy, this mission was successfully accomplished on the first day of its operation. Over 400 military and civilian patients were examined for either injuries or acute diseases, of which 50 were admitted for hospital treatment and 18 for surgical procedures performed during night-time hours.
This responsible mission provided with strong diagnostic and logistic support was led by the MMA's head Major General Prof. Dr. Miodrag Jevtić and heads of MMA's Groups of Surgical, Internal and Neuropsychiatric Clinics.
Within 24-hour period, a very good cooperation was established with the City Emergency Operations Center
Through such approach, the Defense System, once again, has directly demonstrated operational capability of its Military Medical Services to fulfill the third mission of the Armed Forces.