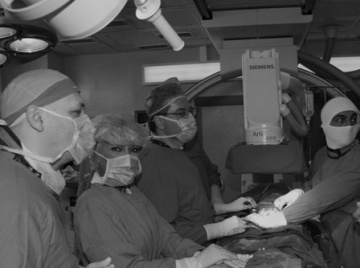 MMA Vascular Surgeons at the European Congress
18. 10. 2010
Belgrade, October 18, 2010. – The participation of the MMA vascular surgeons at the recently held European Congress of Cardiovascular Surgeons and Interventional Radiologists in Valencia, the Kingdom of Spain, was remarkable. They presented their paper titled   "Endovascular reconstruction of giant gastroduodenal artery aneurism with stent graft: a case report" and authored by Major Dr. Ivan Marjanović, Maj.Gen. Prof. Dr. Miodrag Jevtić, Col. Prof. Dr. Sidor Mišović, LtCol. Dr. Siniša Rusović, Col. Uroš Zoranović, MD., and Major Momir Šarac, MD.  

It is the paper which for the first time in the world literature describes this method of surgical treatment of gastroduodenal artery aneurism.

During the Congress, the MMA experts had the opportunity to share with colleagues from Europe their experiences gained in the  application of minimally invasive and interventional radiological procedures, and raise their awareness of the novelties in this field as well.