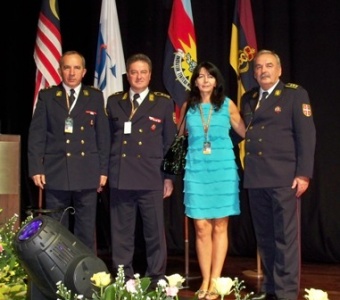 MMA at the World Military Medicine Congress
14. 10. 2009
Belgrade, October 14 – The 38th World Congress on Military Medicine was held in Kuala Lumpur, Malaysia, on October 4 to 9, 2009. The MMA's delegation led by its head, Major General Prof. Dr. Miodrag Jevtić took a noticeable part in the Congress work. The delegation was composed of three members: Col. Prof. Dr. Zoran Popović, Col. Assist. Prof. Dr. Radomir Samardžić and civilian employee Prof. Dr. Slavica Vučinić.
Within the Congress work, the General Assembly composed of heads of delegations from more than 100 ICMM member states (International Committee of Military Medicine) held two sessions devoted to issues related to actual problems in the field of military health with a special focus on the organization of various humanitarian medical missions.
General Jevtić took part in the work of the Assembly in the capacity of a national delegate and introduced the Assembly's members into the organization of our Medical Services and the Military Medical Academy as well as our experiences and challenges in our work.
Within the Congress working sessions, speeches delivered by the members of our delegation on medical management of mass catastrophe situations and their consequences drew particular attention.


The Organizing Board highly valued our presented results and capabilities as well as the work of our delegation at the Congress; therefore, our country was nominated for the member of Continental-European Group for Military Medicine, which, within the International Committee framework, would be responsible for coordination and improvement of military medical cooperation on the European continent. Apart from our country, members of this Group are Germany, Netherlands, Russia, Norway and Cyprus.
All that confirmed once again the values of our Military Medical Services and reputation they enjoy throughout the world.