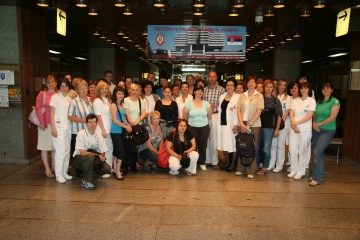 MMA nurses – Inter-disciplinary cooperation
03. 06. 2011
Association of Nurses, Technicians and Midwives of Ljubljana visits MMA
03 June 2011
 
The visit of nurses and technicians of the Association of Nurses, Technicians and Midwives of Ljubljana is one in a series of numerous professional conferences hosted and organised by the Military Medical Academy.
The Delegation included President of the Association from Ljubljana, Mrs Đurđa Sima, Vice-President of the Association and member of BoD of ICN, Mr Petar Požun and President of the Trade Union, Mrs Saša Kotar.
The guests from Ljubljana were welcomed by Head of MMA, Colonel Assistant Professor Dr Dragan Dinčić and MMA Head Nurse Verica Milovanović.
Besides professionally constructive agreements on development and extension of further cooperation in order to exchange professional knowledge and present the latest information to colleagues, the guests visited also a number of organisational units and learned about the organisation of work and professional activities of nurses and technicians at MMA.
The guests left MMA satisfied with the opportunity not only to visit MMA, but also to meet in person a large number of nurses and technicians. They thanked for the warm and friendly reception, wishing this form of cooperation turned into a nice practice and tradition.
 
 
Training of Egyptian nurses at MMA
07 June 2011
 
During last year's visit of the Delegation of the Egyptian Ministry of Defence, including Major General Mohamed Hosni Hanza Ibrahim and Colonel Mona Jusuf Mohamed Mahmud, an agreement was reached on advanced training of nurses of the Egyptian Ministry of Defence at our institution, in the field of intensive care, surgery, physical therapy and rehabilitation, haemodialysis and radiological diagnostics and therapy. Anent the beginning of the training of the first group of nurses, the Military Medical Academy was visited by Acting Charge d'Affaires of the Embassy of the Arab Republic of Egypt in Belgrade, Aya Saad.
After she was informed on the contents of the prepared curriculum of the training, Mrs Aya Saad, Head of the Education and Scientific Research Sector, Colonel Prof. Dr. Predrag Romić and his closest associates made a tour of the Physical Medicine and Rehabilitation Clinic, where the practical training is going to be held, as well as part of the MMA Dorm, where the nurses are going to be accommodated.
The full training of the nurses of the Egyptian Ministry of Defence is going to take place within the framework of the bilateral military cooperation between the ministries of defence of the Republic of Serbia and Egypt.