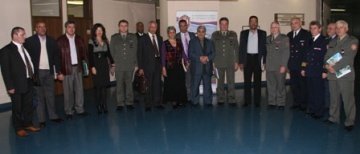 MMA on the Territory of Africa: The Libyan Delegation Visit to MMA
21. 10. 2010
Belgrade, October 21, 2010. – A high-ranking delegation of the Great Socialist People's Libyan Arab Jamahiriya led by Lt.Gen. Al Ramah Ramadan Ahem Aljerd, a director of General Department of Military Health paid a visit to the Military Medical Academy, to review the possibilities for enhancing further cooperation primarily focused on advanced professional education and training of the Libyan Military Medical Service personnel in our institution and exchange of experts of various profiles.

''Welcome to the Military Medical Academy. This is our house of health and science, which closely follow and apply the highest standards in diagnosis and treatment, educate and train young generations of military medicine and deals with scientific research. However, I believe that you are quite well familiar with that, since there is a great number of a physician in your country who has been trained at the Military Medical Academy over the past years and who are now playing the role of our ambassadors. We want that practice to be continued in the future'', said the MMA's head, Maj.Gen. Prof. Dr. Miodrag Jevtić in his welcoming speech.
 
The guests were then introduced into the capabilities and the most important achievements of the Military Medical Academy, its academic and scientific potentials as well as the organizational structure and capabilities of the MMA's Logistic Sector through presentations given by AF civilian employees Assist. Prof. Dr. Elizabeta Ristanović, Prof. Dr. Mirjana Životić-Vanović and LtCol. Mr. Gradimir Vukčević. Following the presentations, the guest were taken on a tour of some MMA's organizational units.
 
At the end of candid and fruitful talks, the head of the Libyan delegation, General Al Ramah Ramadan Ahem Aljerd pointed out that the Military Medical Academy had surpassed his expectations and proved to be a true modern medical colossus and European giant. '' I could see that in addition to top professionalism and expertise you have demonstrated a specific enthusiasm and commitment to this institution. Cherish this virtue and continue to further develop your Academy. As far as we are concerned, we are willing to learn from you'', said the General.