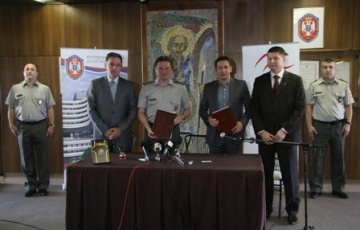 MMA's Support to the Queen of Sports
26. 05. 2010
Belgrade, May 26, 2010. Yesterday, the MMA's head, Major General Prof. Dr. Miodrag Jevtić and the president of the Athletics Federation of Serbia (AFS), Mr. Veselin Jevrosimović signed a Protocol on Cooperation between the Military Medical Academy and Serbian Athletics Federation. Serbian athletes and the Federations's members entrusted, thus, them and their family members to the care of the Military Medical Academy .
The Protocol signing ceremony was attended by the MoD State Secretary Dr Zoran Jeftić, AFS Secretary General, Slobodan Branković and the MMA and AFS leading representatives.
''Be convinced that, in fight for safequarding your health, you would find a tru and reliable partner in our institution. Reach experience of top experts in various fields of medicine who work here are, for sure, precious for our sportsmen in their constant fight to protect themeselves from geting injured or sick, and in case it does happen, to have them managed and cured. That is what the MMA s distinguished for!'' said the MMA's head, Major General Prof. Dr. Miodrag Jevtić addressing the representatives of the Athletics Federation. He also spoke about the MMA's plans for intensification of applied research efforts in the field of ''Physiology of exertion'' what is, from the military aspect in the first place, of great significance in terms of strength and endurance training of the special forces members. That, however, might, from practical aspect, be important to our sportsmen as well. ''That would also be another step forward towards strengthening our cooperation'', said the MMA's head.
''It is an honor and a great pleasure for me to be here today, and happy for the MMA, a Saerbian house of health in which medicine is practiced according to the highest standards, would care in the future for the health of our best athletes. We consider it a great and significant support, since the leading medical institution in the region would serve our athletes 24 hours a day doing its best to respond to all their health requirements'', said the president of the Athletics Federation of Serbia, Mr. Veselin Jevrosimović
The MoD State Secretary, Dr Zoran Jeftić expressed his satisfaction for having such a cooperation established between those two institutions. ''I guarantee that you would get a reliable support from the MMA. As far as capacities and capabilities of this institution for providing medical support to large sports events and health care for sportsmen are concerned, experience gained during the last year Universiade speaks for itself the best. International experts highly valued everyting the MMA's experts did then'', stressed Dr. Zoran Jeftić. He also pointed out that, within the Defence System, a great attention was given to the sports and mentioned as well that cooperation established with sports associations and federations was becoming more and more successful.
AFS Secretary General, Mr. Slobodan Branković also stressed that signing of this Protocol was certainly a step forward leading towards good direction for the future of the Serbian Queen of Sports. ''All MMA's resources would practically be available to our competitors, trainers, athletic workers as well as to their family members, what provides an important psychological support in their endeavors to win new trophies'', added Mr. Branković and thanked the MMA representatives for their care for the health of Serbian sportsmen.
During the visit, the AFS representatives had the opportunity to raise their awareness about the MMA's capabilities, capacities and achieved results, and visited several organizational units of our instituions.