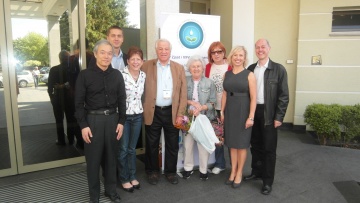 MMA's Participation in the Congress of Clinical Nutrition in Poland
25. 05. 2012
The member of the MMA's Clinic for General Surgery Prim. Dr.Marina Panišić-Šekeljić participated, on the organizer's invitation in the work of 14th Congress and 26th International Conference of Polish Society for Parenteral and Enteral Nutrition (POLSPEN). The event was organized in the period May 18-20, 2012 in Jachranka, Republic of Poland.
The Congress gathered about 750 physicians and pharmacists from Poland, while lectures on invitation have been delivered by Dr. Panišić-Šekeljić, Prof. Ainsley Malone (USA), Dr. Nyukasi I. (Australia), Dr. Alfredo Matos (South America), Dr. Fukushima R. (Japan) and Dr. Forbes A. (Great Britain). Participation of Professor Dr. Stanley Dudrick, who is considered to be the creator of total parenteral nutrition, gave a special significance to this Congress.  
Multidisciplinary lectures were dealing with the questions of parenteral and enteral nutrition application. The Polish physicians provoked a special interest with their experiences in application ofhome total parenteral nutrition, giving at the present to 700 patients in Poland, within 150 patients represent the children.  This kind of medical treatment make them enable to live normal life and accomplish everyday activities. Organization and control of these patients, as well as the education of both patients and their families are on the high level in Poland.   
Dr. Panišić delivered the eminent lecture on enteral feeding in burn patients at Military Medical Academy. Answering to the kindly request of leading Polish surgeons, Dr. Marina Panišić gave the same lecture in Medical School in Cracow within the Symposium she led along with Prof. Stanley Dudrick.