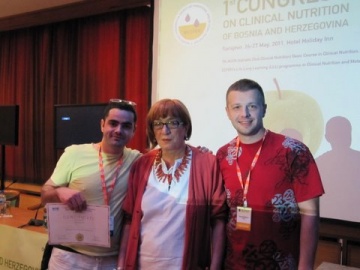 MMA's experts at international conventions
06. 06. 2011
Seventh basic school of clinical nutrition of the European Society for Parenteral and Enteral Nutrition (ESPEN) and the 1st Congress of Clinical Nutrition of Bosnia Herzegovina
Clinical nutrition is becoming increasingly important and significant on the global level, because it was established that the course of illness and treatment greatly depends on the patient's nutritional status and the form and quality of nutrition during his hospital stay.
In order to introduce clinical nutrition in everyday routine medical practice as an integral and important part of patient's therapy, constant education of medical staff is necessary. This way, this basic course held in Sarajevo, Republic of B&H, gave our participants the great opportunity to improve their scientific and practical knowledge and continuing perfection in this area.
Aside from scientific symposiums and educational sessions, multidisciplinary lectures were also organized, which dealt with narrow areas of application of parenteral and/or enteral nutrition. Ten prominent lecturers from Europe, licensed for clinical nutrition, took an active part in the work. From the Military Medical Academy in Belgrade, among the invited lecturers was Prim. Dr Marina Panišić, and among 72 of those who attended these courses were Dr Darko Selaković and Dr Mihajlo Bezmarević, specialized in general surgery and Nada Stojadinović, head nurse from neurosurgery 2 ward.
Our lecturer received the highest marks, and our representatives on the courses were included among the five most successful participants after the final test and based on presented theoretic and practical knowledge.
This way, it was confirmed that Military Medical Academy in Belgrade is still in the very top of clinical nutrition.
 
22. 05. 2011.
European Congress of Cardiac Surgery, Vascular and Endovascular Surgery
60th International Congress of the European Society for Cardiovascular and Endovascular Surgery was held in Moscow on May 20-22, 2011. This biggest European annual meeting of vascular surgeons was attended by over 1,000 participants from all over Europe, and over 20 works were presented. Military Medical Academy was presented by Major Dr Ivan Marjanović from the Clinic for Vascular Surgery, with 5 papers whose authors were doctors from the Clinic for Cardiosurgery, Radiology Institute and Clinic for Anesthesiology. Topics to which these papers were dedicated referred to early inflammatory response after an elective abdominal aortic aneurism surgery – comparison between endovascular procedure and open surgical intervention; endovascular reconstruction of mycotic aneurism of the descending thoracic (chest) aorta; diagnostics and therapeutic dilemmas; hybrid treatment of aneurism on thoracic and thoracic abdominal aorta in high-risk patients who cannot be submitted to a classic surgical treatment: "black table" operation in organ transplant and endovascular reconstruction of aortic aneurism – initial experience in Serbian multicentric study.
Participation of Professor Dr Volodos gave a special significance to this Congress. This is a man who was the first one in the world to invent and conduct an endovascular reconstruction of aorta almost 25 years ago, and who is considered to be the creator of endovascular surgery.