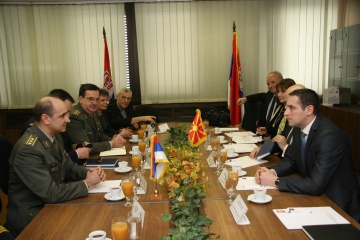 Macedonian Minister of Health in the Visit to MMA
20. 02. 2012
Within the framework of the official visit to the Serbian Ministry of Health, the Minister of Health of the Republic of Macedonia, Nikola Todorov paid a visit to the Military Medical Academy. He was welcomed by the MMA deputy head, Col. Prof. Dr. Dragan Dinčić.
The international cooperation and advanced training were the topic of their discussion. The Macedonian side expressed its interest in sending its medical personnel to the Military Medical Academy for advanced training within 3-year training programs offered in the fields of radiological diagnostics, general surgery, urology, anesthesiology, blood transfusion, thoracic surgery and internal medicine. The number of medical workers who could start various forms of advanced training from the beginning of the next year would be as many as 60.
Belgrade, February, 20, 2012.