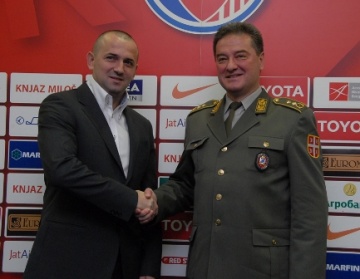 Medicine and the top-level sport: MMA and FC Red Star
14. 12. 2009
Belgrade, December 14, 2008. – Leaders of the Military Medical Academy and the FC Red Star Major General Prof. Dr. Miodrag Jevtić and Vladan Lukić signed the Protocol on Cooperation, under which our institution undertook the responsibility for providing medical support to t football players and Management members of the most profitable Serbian club.
Such cooperation has already been established with the FC Partizan and is deemed very successful. The existing exceptional cooperation with the Serbian Football Union is expected to be formalized in the near future.
The Military Medical Academy is a national institution the mission and obligation of which is to safeguard and improve the health of all our citizens and top sportsmen as well! However, we understand one another very well. I belive this cooperation with the FC Red Star would be also successful. We put our knowledge and experience gained over decades to work for the strengthening of our National Health System. In that sense, the MMA would be a strong support to both Red Star and Partizan footbal clubs as well as to all out top sportsmen. The time would show how right we have been'', said the MMA's head, Major General Prof. Dr. Miodrag Jevtić who together with his colleagues visited the FC Red Star.
The president of the FC Red Star, Vladan Lukić said that this club considered the cooperation with the Military Medical Academy as an institution enjoying a great reputation in our country to be very important.
''The MMA has exceptional conditions and a great experience in the field of sports medicine, what is of invaluable importance', stressed Mr. Lukić.