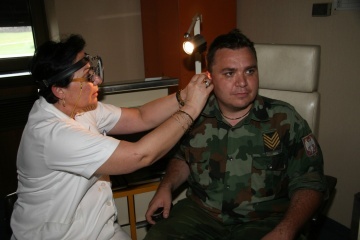 Meeting of the Serbian Medical Society's ENT Section held at the MMA
07. 02. 2010
The meeting of the Serbian Medical Society's ENT Section with participation of the most eminent specialists in otorynolaryngology from our country was held at the Military Medical Academy.

After the welcoming speech of the head of the MMA's  Ear, Nose and Throat Clinic, Col. Dušan Bijelić, MD, the experts from the Clinic presented their views and experiences in the following fields:

1. Treatment of Meniere's disease (the authors: Milanović N, Jaćimović V, Erdoglija M.). The lecture dealt with pathogenic mechanisms and treatment modalities of that disease and included the analyses of 200 patients treated at the Military Medical Academy. Based on the experiences of the MMA's experts, the treatment of the disease should be initiated in its early phase to stabilize the condition, while gentamicin, which can cause significant hearing loss, is reserved for patients with the progressive form of the disease.

2. Treatment of rare malignant tumors of the larynx (the authors: Pavićević Lj,Sotirović J, Baletić N, Bijelić D, Tukić Lj). Two cases of rare malignant tumors of metzenhymen origin localized in the larynx were presented. The diagnostic problems and therapeutic dilemmas as well as necessity of applying multidisciplinary approach to that medical  problem were addressed.

3. Complications occurring after septoplasty with or without electro-cauterization of lower nasal cavities (the authors: Rašić D, Sotirović J, Milojević M, Ljubičić A, Perić A, Bijelić D). Septoplasty is one of the most common surgical procedures performed by otolaryngologist but carries a risk of causing a certain number of complications that might significantly affect the quality of life of the patients. Over the last 10 years, 6685 septoplasty surgeries and 617 septoplasty surgeries with electro-cauterization of one or both lower nasal cavities had been performed at the Military Medical Academy.