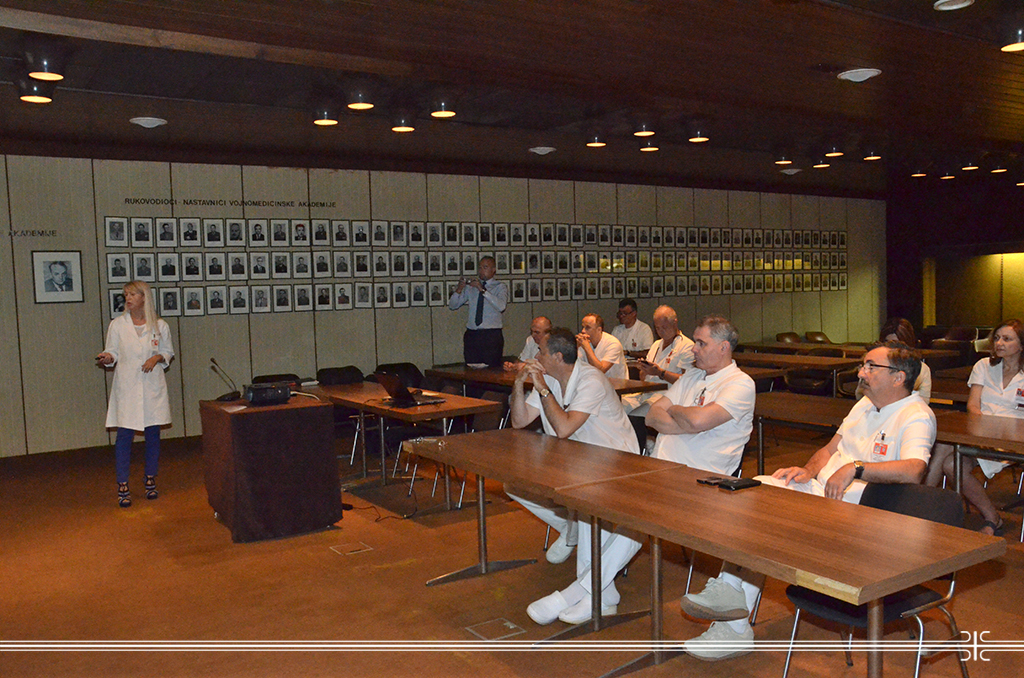 Meeting on Organ Transplant Program at MMA
30. 06. 2016
The expert meeting on improving the program of cadaveric organ transplantation in the MMA and modern achievements in this field was held at the Military Medical Academy. The meeting chaired the coordinator for organ transplants in the MMA Prof. Dr Djoko Maksic announcing seven lecturers, members of the MMA transplant team, who introduced participants with the current issues regarding the further transplantation process development at the Military Medical Academy.
Assistant Dr Snezana Colic M.Sc. lectured about the first step in the process of transplantation - the brain death determination and shared experiences from the MMA's clinical practice. In addition to presenting the legally stipulated standard diagnostic methods, it was also discussed about the possibility of introducing additional tests, such as gamma scintigraphy and cerebral angiography, which would further confirm the absence of cerebral circulation. The lecture of the Head of the Department of Intensive Care MMA Lt Col. Doc. Dr. Dragan Djordjevic was dedicated to the importance of intensivists role in early detection and maintenance of hemodynamic stability of potential donors what is crucial for the transplantation procedures success i.e. organ function after transplantation. In order to improve the explantation-transplantation process, the lecture of professor Maksic related to organ transplantation in the elderly population and the Eurotransplant program called "Old for Old," which so far has shown good results in terms of compatibility of donor and recipient of a similar age.
Prof. Dr. Darko Mirkovic from the Clinic for General Surgery MMA spoke about of multiorgan explantation and organ perfusion, Head of the Clinic for Vascular and Endovascular Surgery of the MMA Doc. Dr. Aleksandar Tomic presented surgical aspects of kidney transplantation, Dr. Predrag Maric from the Clinic for Urology the urological aspects important to the success of kidney transplantation and Dr. Neven Vavic PhD from the Center for solid organ transplant delivered a lecture on factors of importance for the survival and renal allograft recipients.