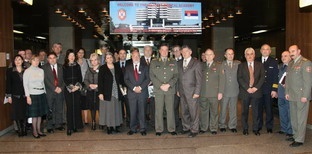 Members of the Serbian Parliament in the visit to the Military Medical Academy
29. 11. 2008
Belgrade, November 29 - For the first time in the history, the members of the Board of Health and Family Care of the National Assembly of the Republic of Serbia visited the Military Medical Academy and its management. The MMA head Major General Prof. Miodrag Jevtić, MD, PhD offered a warm welcome to them expressing his great satisfaction at the fact that he high level delegation members from the Serbian Parliament paid a visit to this institution at their request. ''Dear colleagues, the Military Medical Academy is your home too and the house of hope for all the citizens of the Republic of Serbia regardless of their nationality, religious or political affiliation. Being open and serving all the citizens of Serbia equally, we do not minimize the medical care of our primary target group, that is, the military patient population. Even in the most difficult times, we managed to keep pace with the highest standards of world medicine. We are recognizable as a valuable recourse of the Ministry of Defence, unique national wealth as well as the cooperation bridge on Serbia's path towards Europe'' stressed General Jevtić. He also said that functional integration of the Military Medical Academy into the National Public Health System of the Republic of Serbia took place at the end of the last year, adding that MMA was still fighting for its place within the Academic and Scientific-Research System of the Republic. ''I expect to get your understanding and support in overcoming the injustice that affects not only the teaching and scientific personnel from the Military Medical Academy but the entire Serbian society. Doesn't Serbia need experts dealing with high level researches within medical profession, experts who report on their results at world scientific conferences and publish their papers in the most prestige journals'' asked General Jevtić

The members of the Board of Health and Family Care were introduced into the MMA organizational structure, its personnel capacity and the achievements in the fields of treatment and education and scientific-research work. They made as well a tour of some of the MMA units.

At the end of the visit, Serbian parliament members expressed their satisfaction with having the opportunity to build their awareness of the MMA work. They also expressed their readiness to support all the MMA's efforts towards its integration into the Academic and Scientific-Research System of the Republic of Serbia, its further development and strengthening of its position on the international scene within the cooperation framework.