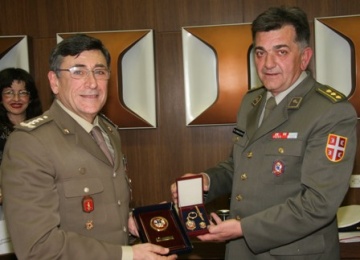 Military Medical Cooperation between Serbia and Italy
09. 03. 2011
Belgrade, March 09, 2011. – The Italian Military Medical Services delegation led by the Surgeon General LT.Gen. Federico Marmo paid the official visit to the Military Medical Academy to discuss with the leadership of this institution about the possibilities of cooperation in the fields of treatment, education and scientific research.

The MMA's head, Col. Prof. Dr.Marjan Novaković extended a cordial welcome to the guests from Italy, and, availing himself of that opportunity, emphasized that the MMA is a medical giant in which the treatment, education and scientific research, fully integrated and multidisciplinary coordinated, are smoothly performed following the highest standards and  the results of which are applied in everyday clinical practice.

'' An important segment of our daily activities is international cooperation and communication aimed at experience sharing and further improvement of medical profession in accordance with its highest achievements. We are determined to continue that way in the future, and think that we should  advance our cooperative relationship within the Serbian –Italian bilateral cooperation framework in line with the imperative and requirements of modern medicine'', Col. Prof. Dr. Novaković said.

After the introduction into the MMA's capacities, capabilities, and accomplishments as well as the vision of its future development, the members of the Italian delegation toured some of the organizational units of our institution: Clinics for Anesthesiology and Critical Care, Internal Emergency Medicine, and Plastic Surgery and Burns, Blood Transfusion Institute and Poison Control Center.
 
During the discussions, both parties expressed mutual interest in sharing of experience and knowledge in the sphere of military medicine with a special focus on surgical branches such as ophthalmology, orthopedics, and neurosurgery. Our experiences gained through participation in UN-led peacekeeping missions and specific knowledge of war surgery were also the areas of their interest.

Preceding from the facts that Italy boasts great experience in the telemedicine domain, and that it has the advanced Telemedicine Center operating within the framework of the Rome Military Hospital on one side, and the interest of the MMA and our Military Medical Services in further development of this medical branch,  possibilities of establishing cooperative relations in this field  were also considered.