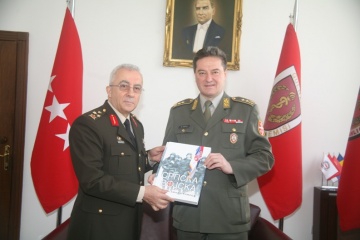 Military Medical Cooperation between Serbia and Turkey
24. 04. 2009
MMA's head, Major General Prof. Dr. Miodrag Jevtić accompanied by Major Assist. Prof. Milan Petronijević was in an official visit to the Turkish Armed Forces Medical Services, and military healthcare facilities from April 12 to 14, 2009.
The host delegation composed of the highest representatives of the Turkey Armed Forces Medical Services introduced the Serbian delegation members into the organizational structure and functioning of the Turkish Armed Forces Medical Services encompassing 56 military healthcare facilities with more than 2000 military physicians.
During the visit to Ankara, members of our delegation led very constructive dialogues with the head of the Turkish Military Medical Academy, Lt.Gen. Hasanom  Memisogluom and the dean of the Military Medical School, Maj.Gen. M.Zeki Bayraktarom, and could learn about the work of those two Turkish institutions.  Our delegation was also taken to a tour of the Military Rehabilitation Center which ranks  among the most modern and technologically equipped centers in Europe.
General Jevtić, while visiting the Military Medical School, had an opportunity to address, on behalf of his colleagues and associates, Medical School professors and students and to raise their awareness of educational and scientific-research potentials of the Military Medical Academy. Professors and students of that institution which recruits around 100 students each year  to train them for the needs of  the Turkish Armed Forces, expressed their readiness and willingness to establish cooperation between our and their institution in  terms of organizing advanced programs of study and exchange of guest lecturers.
Members of the Serbian delegation also visited the Military hospital, Medical Training Center and Military Geriatric Center in Istanbul as well.
During discussions with the Military hospital's manager team led by Major General Tunlay Cakanom, our representatives were introduced into the organization of work and technological capabilities of that institution and made a tour of some of its units.
A great interest in cooperation with Serbian Armed Forces Medical Services and the Military Medical Academy in the fields of treatment, experience sharing, medical personnel education and scientific-research work permeated all discussions led with the most responsible representatives of the Turkish Medical Services. Issues such as exchange of experts, publishing support activities relating to national medical journals and exchange of information on international medical events were also addressed
It is expected that all agreements reached during the visit would be implemented within the framework of future bilateral cooperation between the Defence Ministries of both countries.