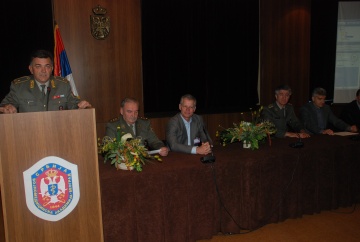 "Modern Approach in Hip and Knee Arthroplasty"
18. 05. 2012
 The International Symposium titled "Modern Approach in Hip and Knee Arthroplasty" organized by the MMA's Clinic for Orthopedic Surgery and Traumatology took place in the Military Medical Academy, on May 18, 2012.
Head of the Military Health Department Colonel Prof. Dr. Zoran Popović wished a warm welcome to all presented at the Symposium, while Head of the Military Medical Academy Brigadier General Marijan Novaković pointed out the importance of sharing medical experiences on international level.
 
During the scientific part of the Symposium, Prof. Dr. Thorsten Gehrke from Hamburg ENDO Clinic performed two surgical procedures with the assistance of Col. Prof. Dr. Zoran Popović andDeputy Director of the Institute for Orthopedic Surgery "Banjica",Asst. Prof. Dr. Milan Apostolović. The said operations included implantations of artificial hip and artificial knee. The attendees witnessed live all surgical performances and participated in direct communication with the moderators.
 
Asst. Prof. Dr. Zoran Baščarević, from the Institute for Orthopedic Surgery "Banjica" was the presenter and moderator to deliver one of the lectures of surgical team engaged for presenting surgical interventions.
 
Exchange of expert knowledge and experience with Europe leading professional for arthroplasty and Director of the ENDO Clinic Hamburg, which carries out annually about 6.000 surgical implantations of different body joints represents significant contribution for this surgical branch and the opportunity for continuing successful collaboration between Military Medical Academy and Germany.