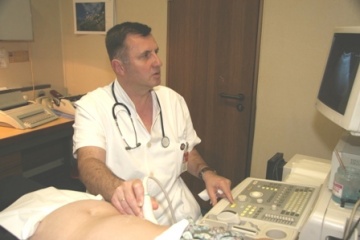 More than 200.000 examinations and interventions performed at the Outpatient Diagnostic Center
17. 07. 2009
Belgrade, July 17, - Within the first 6 months of 2009, the MMA's Outpatient Diagnostic Center performed over 160.888 specialist examinations and 45.985 various complex diagnostic procedures on ambulatory patients. Out of that number, 130.412 specialist examinations and 32.311 diagnostic procedures refer to the military patients
During the morning hours of operation, the Outpatient Diagnostic Center admitted 30.476 civilian referrals to a specialist and 13.674 of them for diagnostic purposes.

''The mentioned results confirm the great trust of both military and civilian patient population in the quality and efficacy of examinations and interventions we offer'' said the head of the Center, Col. Prof. Dr. Đoko Maksić.

The Center for the Same Day Surgery performed 3598 surgical interventions, out of which 582 were one-day surgeries. Having in mind advantages of surgical treatment provided by the Center for the Same Day Surgery (lower infection and thromboembolic complication rates, etc.), we plan to extend the Center, along with the additional equipping and reinforcement of the existing personnel.

The Ward for Diaspora and patients with additional private health insurance had 1202 patient visits scheduled via the internet or by phone.

By introducing software for scheduling appointments during morning shifts and overtime work and putting a new Call Center into operation, we offered both national and international patients the possibility to schedule their appointments with a specialist or a certain diagnostic intervention.

The Outpatient Diagnostic Center has 51 specialist wards and 11 functional diagnostic units, The same Day Surgery Center, Medical Centers for Children and Women as well as the Ward for patients with additional private health insurance and Diaspora. It meets all the requirements for providing outpatient specialist examinations, diagnostic procedures and one-day surgeries to the military insured and civilians based on the Agreement with the National Public Health Institute effective as of January 1, 2008, or on self-pay basis.

Several organizational, HR and technological innovations are planned to be introduced into the work of this Clinic with the aim of improving quality of services and satisfaction of service users.