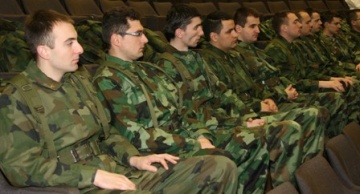 New Class of Students of the Medical and Veterinary Services Reserve Officers School
08. 03. 2010
Belgrade, March 08, 2010 – On the occasion of the beginning f the School Year of the 97th Class of reserve officers of Medical Service and 95th Class of reserve officers of Veterinary Service, official ceremony, which has almost become a tradition, took place with the participation of the MMA's head, heads of Chairs, teachers and Commander of the Reserve Officers School.
The MMA's head, Major-General Prof. Dr. Miodrag Jevtić extended a warm welcome to future reserve officers saying the following: 'Today, when there is a possibility of choosing the way to serve the military term, we particularly appreciate your decision to do that in the military uniform and to acquire knowledge and master skills a reserve officer of the Military Medical Services should possess. The MMA's teachers would pass onto you all required knowledge and experiences gained by generations throughout previous decades, that would be very useful in your everyday practice, wherever you might be. We are also going to learn from you since we expect you to assess our educational skills and make proposals as well, as previous generations did. That would give us a chance to make ourselves much better in passing knowledge on to you', said General Jevtić. ''Let's join our learning efforts, make the most of all the opportunities offered by the Military Medical Academy, the institution which has confirmed and proved its professional and scientific values.'
In the next six months, students will attend classes which would include military-professional subjects and military specialties, with a special focus on Medical Doctrine on medical management of the injured and sick in mass catastrophe and natural disaster situations.
At the end of the first three-month term, all your acquired knowledge would be practically tested through military exercises, and your education would be completed after three-month period of apprenticeship you are to serve within SAF units and installations, upon which, you would be promoted into the rank of a reserve sub-lieutenant.