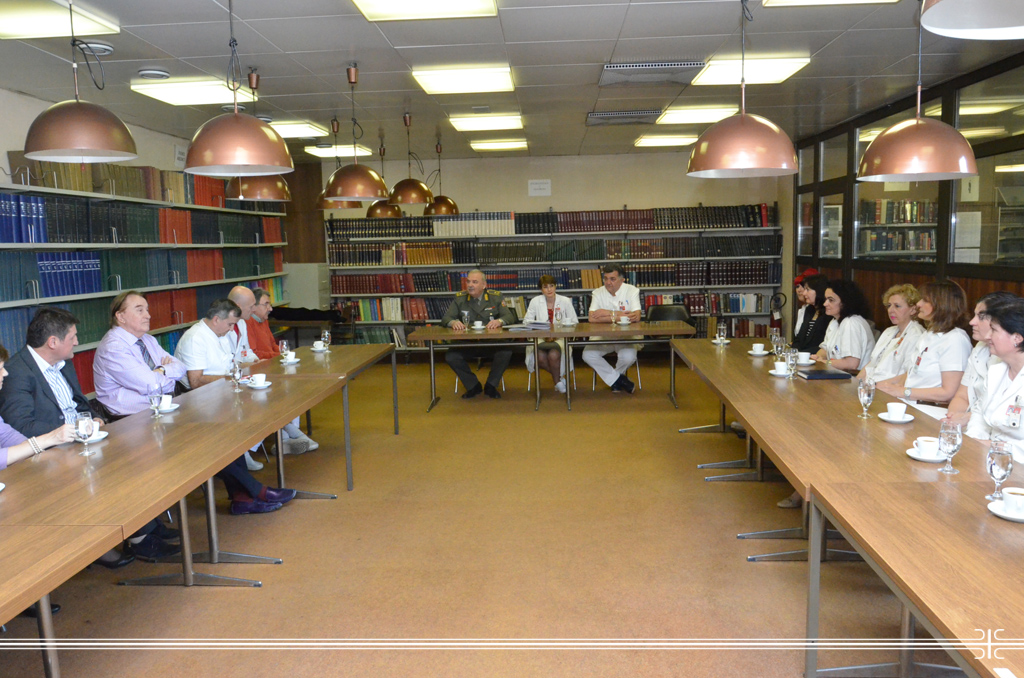 New Editorial Board of the Military Medical Review
04. 04. 2014
Constitutive meeting of new editorial board of the magazine Military Medical Review was held on Thursday, April 3rd, 2014 in the premises of the MMA Institute of Scientific Information. Aside from the mentioned body, it was attended by the President of MMR Editorial Counsel, Head of the Military Healthcare Department Brigadier General Prof. Dr. Zoran Popović and the MMA Head Brigadier General Prof. Dr. Marijan Novaković.
In his welcome speech, General Popović pointed out the significance of editorial board contribution in the magazine development process so far, as well as its rank among the 155 most influential world journals in the field of general and internal medicine. In course of the Editorial Board present mandate, magazine has been indexed in best-known databases of scientific journalism- Science Citation Index Expanded (SCIE) and received the first impact factor. Brigadier General Prof. Dr. Marijan Novaković emphasized the determination of the MMA Management Board to provide all the necessary support in magazine development and improvement. Editor-in-Chief Prof. Dr. Silva Dobrić reminded all present on the Military Medical Review development and relevant issues the editorial board deals with. Its members Academician Vladimir Kanjuh, Brigadier General Academician Miodrag Čolić, Prof. Dr. Zvonko Magić and Prof. Dr. Ljubomir Todorović spoke about the importance of national scientific magazines placement in world known index bases while pointing out the respecting principles of good publication practice as maintenance of international reputation of Military Medical Review.
According to the regulations of the Military Medical Review editorial board, mandate of an editor lasts four years with the possibilities for re-election. Due to some editors have already expired the second mandate, the conditions for election of new members have been acquired. Prof. Dr. Zoran Popović and Prof. Dr. Marijan Novaković awarded the editors finishing the second mandate (Prof. Dr. Snežana Cerović, Prof. Dr. Branka Đurović, Prof. Dr. Gordana Mandić-Gajić, Dara Stefanović, Prof. Dr. Đoko Maksić, Prof. Dr. Ranko Raičević, Prof. Dr. Predrag Romić, Prof. Dr. Vojkan Stanić, Prof. Dr. Vesna Šuljagić, Prof. Dr. Milan Višnjić) with the letters of thanks recognizing their work in raising magazine quality and reputation, while wishing successful work in its furher amelioration to the newly promoted Body members. Editors of Military Medical Review who are appointed at this position are the teachers of the MMA Medical Faculty, University of Defence- Prof. Dr. Gordana Dedić (psychiatry), Lt. Col. Prof. Dr. Tihomir Ilić (neurology), Col. Asst. Prof. Dr. Zoran Lazić (epidemiology), Prof. Dr. Slavica Rađen (hygiene and nutrition), Asst. Prof. Dr. Leposava Sekulović (radiology), Prof. Dr. Maja Šurbatović (anestesiology and intensive care) and Col. Prof. Dr. Dino Tarabar (gastroenterology), added by the teachers of the Belgrade Medical School- Academician Zoran Krivokapić (surgery), Prof. Dr. Branka Nikolić (gynecology and obstetrics) and Prof. Dr. Slobodan Slavković (ortopedics and traumatology and teacher of the Medical School, University of Novi Sad- Prof. Dr. Slavica Ušaj-Knežević (pathology). Members of the international editorial board became Prof. Dr. Jovan Antonović (Karolinska Instituet, Stockholm, Sweden; field of internal medicine - hematology), Prof. Dr. Gerhke Thorsten (Medical School, Hamburg, Germany; field of orthopedics), Prof. Dr. Thomas John (Layola University, Chicago, USA; ophthalmological field), Prof. Dr. Mirjana Pavlović (Florida Atlantic University, Boca Raton, USA; biochemistry and bioengineering), Prof. Dr. Sadberk Lale Tokgozoglu (Faculty of Medicine, Hacettepe University, Ankara, Turkey; cardiology).
Military Medical Review (Vojnosanitetski pregled) is the medical magazine of the Serbian Armed Forces physicians, dentists and pharmacists. Continuing the tradition of Military Medical Herald (1930-1941), Military Medical Review magazine has been continuously published since 1944. It is one of the leading national magazines in the field of biomedicine. Since 2008, the magazine has been indexed in SCIE list and since 2010 valuated on impact factor, thus becoming one of the rare scientific magazines with the international status.