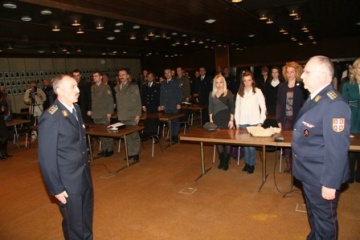 New Officers of the Medical and Veterinary Services
09. 02. 2011
Belgrade, February 09, 2011. – Upon completion of basic military training program requirements at the Medical Service's Center for Organization and Tactics   and the Veterinary Service's School Center, 11 female candidates have been promoted into the rank of 2nd lieutenant by the Decree of the President of the Republic of Serbia, Boris Tadić.

The Statement of the Republic of Serbia Defense Minister, Mr. Dragan Šutanovac on their   entry into the professional military service as well as the  Order of the Chief of the General Staff of the Armed Forces of Serbia, Lt.Gen. Miloje Miletić on the assignment of new 2nd lieutenants to the AF units were read at the official Ceremony held on that occasion at the Military Medical Academy today.

The head of the Military Academy, Brig.Gen. Assist. Prof. Dr. Mladen Vuruna congratulated, on behalf of the Serbian Ministry of Defense, newly promoted officers wishing them to serve their country as both good officers and doctors.

On behalf of the MMA's Management Board, the MMA's deputy head, Col. Prof. Dr. Nikola Filipović congratulated the doctors of medicine and veterinary medicine on their   first commissioned ranks, and reminded the present to that occasion of the bright tradition of our Medical Services. He wished those young 2nd lieutenants a lot of professional achievements in their bright mission of caring for the health of officers and soldiers.

Among the guests to the today's ceremony were the members of the MMA's Management Board, heads of its organizational units, its teachers as well as the representatives of the MOD Personnel Departmetn and the AF GS Human Resources Department.