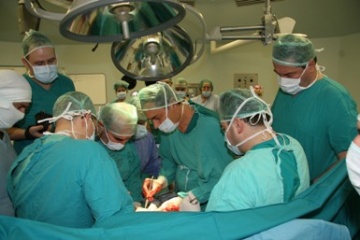 New Success Achieved in the 'Prolong the Life' Action
01. 04. 2010
Belgrade, April 01, 2010 – Another liver transplantation was successfully performed at the Military Medical Academy at 15h this afternoon. It is already a ninth liver transplant procedure performed at the Academy, but this time in close conjunction and direct involvement of the colleagues from the Nis Clinical Center. The transplant patient, 59-year- old female, underwent the surgery quite well. The postoperative recovery process is now normal. 
The MMA's Management Board and transplantation team express their gratitude to the family for given consent to organ removal from its family member after being diagnosed clinically dead.
Thanks to such gesture, the 'Prolong the Life' National Action resulted in saving 3 healthy persons: two kidney transplant patients operated on in Nis, by joint MMA and Nis Clinical Center team, and one liver transplanted patient operated on at the Military Medical Academy.