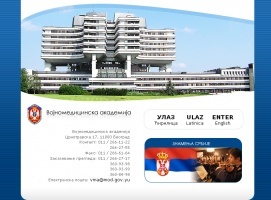 New accomplishments of the Military Medical Academy
14. 06. 2008
Belgrade, June, 14 - The Military Medical Academy had been designated as the regional medical training center by the countries in the region what represents a great honor but at the same time an obligation to provide education and training of a large number of medical experts for effective dealing with mass catastrophes - said MMA head, Maj.Gen. Prof. Miodrag Jevtic MD., PhD at the Press Conference. He also mentioned that the Military Medical Academy and the Serbian Armed Forces Medical Services had been admitted to the Balkan Military Medical Committee as its full member by Greece, Bulgaria, Turkey and Romania, thus being the first country in this region to attain that membership after 12 years of the existence of the Committee. The Military Medical Academy and the Serbian Armed Forces Medical Services had also been chosen by the World Military Medical Committee as a member of the five-member European Group responsible for considering all the aspects of cooperation in Europe.

Prof. Mirjana Zivotic-Vanovic, PhD, head of the MMA Education and S&R Sector, informed the journalists about another international high recognition given to the 'Military Medical Review', a medical magazine of Serbian Armed Forces physicians and pharmacists. That magazine was indexed in the prestige bibliographic base - Science Citation Index Expended (CSIE) which includes the world's most influenced journals covering all the research fields.  The 'Military Medical Review' is currently the only national in the field of humane medicine indexed in this base. 

Elizabeta Ristanovic, MD, PhD, head of the Morale and Public Relation Department presented the new Internet presentation of the Military Medical Academy emphasizing that   the citizens would now have a chance to be fully informed about the MMA  and its  activities as well as have a look at CVs of its physicians responsible for their health.

A special thanks were given to the Serbian Press Clipping Center –Nina Media and its manager Dragan Radic which, as their contribution to improvement of communication in the field of medicine in Serbia, designed and installed the site.