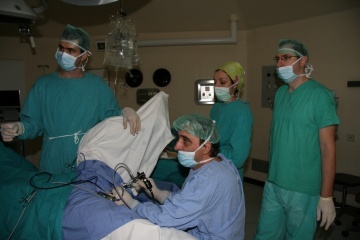 New equipment installed at the Urology Clinic
07. 02. 2010
Installation of state-of-the-art laser apparatus ensured the introduction of a new laser    procedure for   breaking up stones in the kidney and urinary tract into the routine clinical practice at the Military Medical Academy.
This apparatus emits a light beam of 2 080 nm wavelength which cannot be detected   by the naked human eye, and the light energy is transmitted through the flexible, thin optic fiberscope  and by direct contact it blasts them into powder  which can be removed through the urine. Postoperative treatment time is short.
Prof. Dr. Oliver Traksmer from Paris instructed and trained the MMA's urology experts   to properly operate that machine.
The Military Medical Academy added up that method to  other diverse methods used for the treatment of the calculosis of urinary tract.