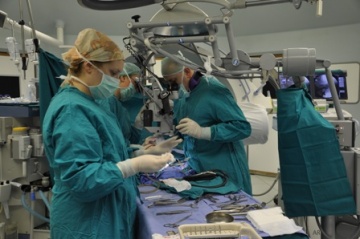 New surgical techniques in the treatment of scoliosis
06. 05. 2010
Belgrade, May 06, 2010 – For the first time in this area, the MMA's Clinic for Neurosurgery has performed on an 18-year-old patient a surgical correction of idiopathic scoliosis using a new surgical method – translation and derotation technique. The surgery was performed by our neurosurgeons assisted by the two experts from Minneapolis (U.S.A.) Dr Scott Hook and Dr. Paul Hess.
The mentioned technique has been applied in the world's medical practice for a year and a half; it requires specific instrumentation, and has significant advantages as compared to existing methods of surgical treatment of scoliosis. It allows for better scoliosis curve derotation, requires much less material for correction and considerably shortens the duration of surgery. Its limitations refer to its application in the treatment of idiopathic scoliosis only (most often adolescent), not for the treatment of degenerative scoliosis typical for elderly population.
The surgery went without any problems and intraoperative complications arising, and the patient is making a good recovery.
Within the framework of the visit by those experts, possibilities for further improvement of Spinal Program at the MMA's Neurosurgery Clinic were reviewed. It was agreed to continue with already established cooperation aimed at final adoption of this new technique.