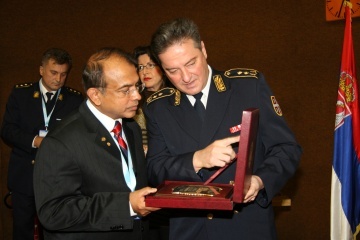 New trends in Ophthalmology
19. 09. 2008
Belgrade, September 19 - Under the auspeice of the MMA Eye Clinic, the Second Symposium on "New trends in ophthalmology" with international participation  and subsequently the formal public session of the MMA Teaching-Scientific Council were held in the MMA amphitheater at which   Prof. Thomas John, MD, PhD from the  Loyola University of Chicago was appointed as a visiting professor of the Military Medical Academy.
Addressing the guests – teachers, professors, notable figures of Serbian and world ophthalmology, the MMA head Major General Prof. Miodrag Jevtić, MD, PhD      with the president of the MMA Teaching-Scientific Council expressed particular satisfaction with a fact that the   Eye Clinic is nowadays one of the most prestige organizational units of the Military Medical Academy and a pioneer in introducing the most advanced eye surgery methods into a routine clinical practice in Serbia and this part of Europe. ''We highly appreciate cooperation and assistance of world experts  such as Prof. John is who is now the MMA  visiting professor, and we will continue with a practice of sending our young experts to world-known medical centers to increase their awareness on new trends in ophthalmology and, thus, apply all the acquired knowledge  in our clinical practice''
The MMA head awarded a certificate and the plaque of the MMA visiting professor to Prof. Thomas John.
In the further course of the Symposium work, experts from the MMA Eye Clinic led by its head Col. Prof. Miroslav Vukosavljevic, MD, PhD presented through ''live surgery'' broadcasted from the operating room their achievements in the field of correction of high dioptre by excimer laser as well as the method of micro incision  surgery of the posterior chamber of the eye- nonsuturing vitrectomy 23 G. This method mostly called ''a mosquito technique'  allows a breach through a 0,7 mm incision to the deepest structures of the eye – vitreous humor and retina and  PHACO (Phacoemulsification) cataract surgery with insertion of multifocal and aspheric intraocular lenses.
Eminent experts from the Republic of Croatia and the Kingdom f Norway also presented their experiences in the field of Ophthalmosurgery