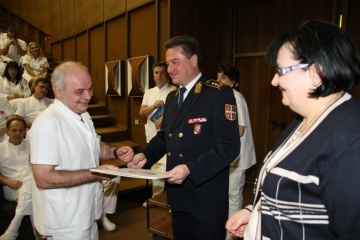 OFFICIAL AWARDING OF MEDICAL LICENSES TO THE MMA's PRACTICING DOCTORS
16. 12. 2008
 Belgrade, December 16 - As of today, all practicing doctors from the Military Medical Academy have a medical license to practice medicine. Upon taking the oath, the MMA head Major General Prof. Miodrag Jevtić, MD, PhD and the president of the Serbian Medical Chamber Mrs. Tatjana Radosavljević, MD officially awarded medical licenses to heads of groups of clinics, institutes, medical institutions and independent departments of the Military Medical Academy.
In his address, General Jevtić stressed that obtaining a medical license to practice medicine is a great honor and pride but a great responsibility as well of all members of the medical profession. They are expected to continue giving greater contribution to the advancement of medical profession and their own professional development as well through their practices carried out in accordance with principles of this humane profession.
A license is an official document certifying the professional competency of a medical professional for independent practicing a medical specialty in the Republic of Serbia. It is issued to the members of the Serbian Medical Chamber for a period of 7 years. The compulsory licenses for practicing medicine are issued under the Regulation No 119/2007 published in the Official Gazette of the Republic of Serbia dated 14.12.2007.