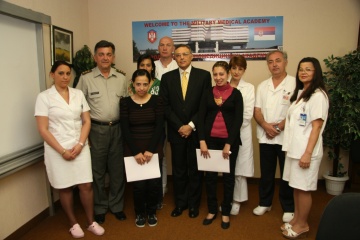 Official certificate ceremony for nurses from Egypt
07. 07. 2011
In the presence of the Egyptian Ambassador H.E. Aly Galal Bassiouny, Deputy Head of the Education Division and NIR dr Silva Dobrić, Head of the Physical Medicine and Rehabilitation Clinic Colonel prof. dr Aleksandar Đurović and other VMA officials, Head of the Military Medical Academy (VMA), Colonel Prof. Dr Marijan Novaković officially handed over certificates on completed physical medicine and rehabilitation course to nurses from Egypt.
After Head of the VMA Col. Prof. Dr Novaković wished a warm welcome to His Excellency and those present, Colonel Prof. Dr Aleksandar Đurović talked about the work that nurses did and successes they accomplished during the four-week-course. He also pointed to the differences in administrative management and clinical practices in physical medicine and rehabilitation in the two countries, and outlined that the programme provided one of a kind opportunity for those differences to be carefully assessed and overcome so that future education programmes could satisfy all of their needs and demands.
H.E. Aly Galal Bassiouny thanked Colonel Novaković and VMA staff for getting closely involved in assisting the nurses from Egypt and on the effort they have invested in providing them with an opportunity to acquire new know-how and experience which they will be able apply in everyday work once they return to their native country.
The education programme, which the Egyptian nurses completed, has been executed within the framework of the bilateral military & medical cooperation between the two countries. This was also the first group of nurses that attended the programme.