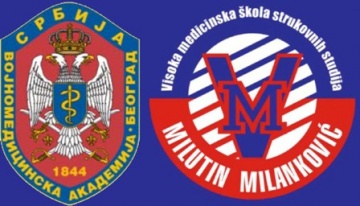 On a National Mission
30. 03. 2010
Belgrade, March 30, 2010 – Successful cooperation of Military Medical Academy with numerous high education institutions in our country has become a long-lasting tradition. Strategic orientation of the MMA's Management is to continuously invest in human resources as the mainstay of the development of medical profession and science.
For decades, the Military Medical Academy served as a teaching base for medical nurses-technicians of nursing schools and schools of higher medical education. Thus, education and training of medical personnel is the field in which the Academy has established exceptionally good cooperation with numerous vocational schools.
The School for Medical Vocational Higher Education "Milutin Milanković" as an institution providing high quality educational and training programs developed according to European standards, and granting diplomas recognized in the U.S.A. and E.U., sees the Military Medical Academy as a reliable partner, recognizes its high-qualified personnel, and its Teaching Corps.
According to the Cooperation Agreement those two institutions have entered into, the "Milutin Milanković" School offered medical technicians who had participated in the UN-led peacekeeping mission in Chad education in 2009/2010 Academic Year free of charge.
Cooperation between those two institutions is also characterized by one quality more, and that well understands of the Serbian Armed Forces missions in which the Military Medical Academy participates as a national treasure and strategic support to the Republic of Serbia Defense Ministry.
'We have also recognized the need for education and training of personnel participating in important national missions, and are ready and willing to fully contribute to that cause', said for the MMA's site Prof. Dr. Vera Ilanković, the principal of "Milutin Milanković" School..