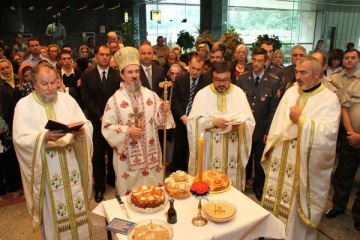 On a mission to strengthen the human spirit
17. 06. 2011
Celebrated patron saint of the chapel at Military Medical Academy

This year as well, Military Medical Academy celebrated the patron saint of the Chapel of St. Luke Simferopol with a holy divine liturgy which was served by His Grace Vicar Bishop of Hvostno Atanasije on behalf and with the blessing of His Holiness Serbian Patriarch Irinej, with protopresbyter-stavrophor Ratko Savić and with presbyter Nebojša Topolić, presbyter Zoran Kerezović, head of the Chapel of the Holy Healers at the Clinical Hospital Centre of Serbia, and deacons Aleksandar Sekulić and Vladimir Golić.
The holy liturgy was attended by Deputy Chief of Military Medical Academy Colonel Doc. Dr Dragan Dinčić, with members of MMA Administration, Mp and chapel endower Mr. Nenad Popović, Mps Srđan Milivojević and Srđan Miković, member of the Crown Council Professor Dr Dragomir Acović, entrepreneur Mr. Željko Šajn, State Secretary at the Ministry of Defense Mr. Igor Jovičić, a large number of believers and patients who are being treated in this establishment.
The first liturgy in this newly established chapel dedicated to the great hierarch of Russian Orthodox Church, St Luke, Archbishop of Simferpol and Crimea, University professor and a doctor, canonized at the end of last century, was served by His Eminence Metropolitan of Montenegro and the Littoral Amfilohije with the blessing of Patriarch Pavle who fell asleep in the Lord, on the day of his patron saint, Lazareva Subota, April 11th, 2009.