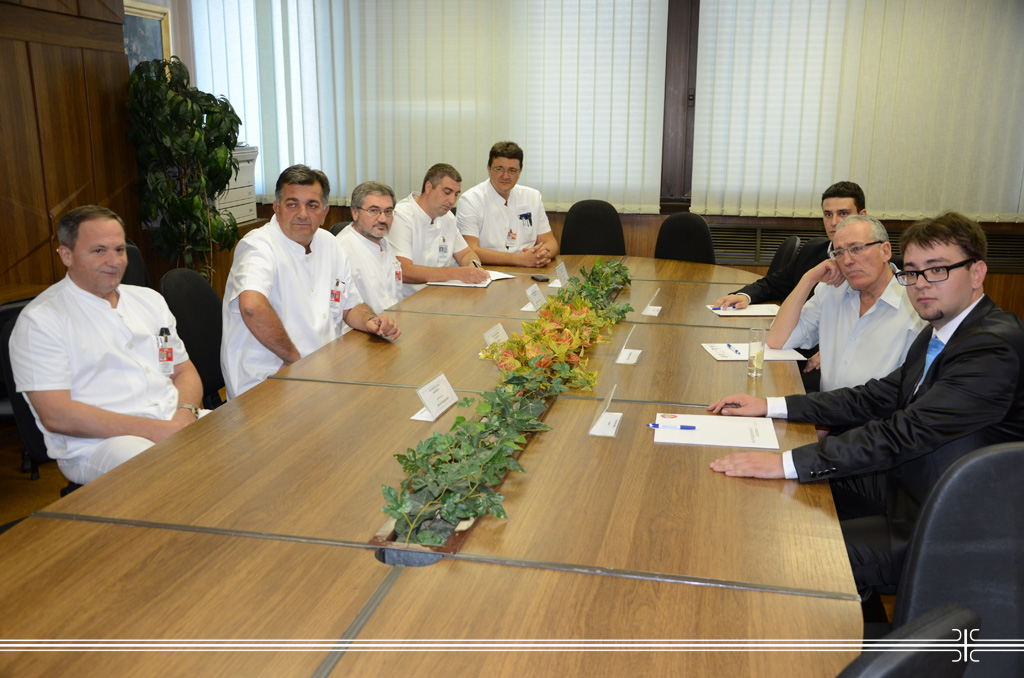 Organization of Serbian Students Abroad at MMA
21. 08. 2012
The members of the Organization of Serbian Students Abroad (OSSI) Stefan Stefanovic and Luka Katic accompanied by the managing director of Hadassah Medical Center, Jerusalem and deputy commandant of the Izraeli Medical Forces Prof. Avraham I. Rivkind, MD visited the Military Medical Academy.
Prof. Dr. Avraham I. Rivkind, a special guest of the OSSI Conference organized in Belgrade, was welcomed by the MMA's head Brigadier General Prof. Dr. Marijan Novakovic, head of the surgerical clinics group Colonel Prof. Dr. Nebojsa Jovic, head of the Medical Research Institute Prof. Dr. Zvonko Magic, head of the Operating Block Major Dr. Mladen Prcovic and Major Zoran Radomirovic.
Brigadier General Prof. Dr. Marijan Novakovic acquainted the guests with the methods and results achieved at the MMA as well as with the plans for the continuation of the professional training, integration with civilian healthcare institutions and finally improvement of the international cooperation in the field of healthcare protection.
Mr. Stefanovic introduced the hosts with the OSSI functioning and aims for the collaboration improvement with the students of medicine attending their studies abroad. Prof. Dr. Rivkind presented the organization and work methods of the Hadassah Medical Center along with the challenges the Clinics deal with every day.
Prior to the short visit and insight into the MMA Operating Block capacity and work methods, the MMA representatives established the cooperation possibilities with the Organization of Serbian Students Abroad in the field of education.