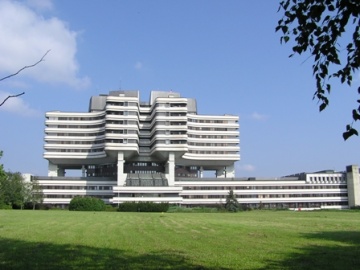 Otorhinolaryngologists from MMA at the Congress in Barcelona
07. 07. 2011
In the period from July 02 – 06, 2011, the 1st Confederation of European Otorhinolaryngology and Head and Neck Surgery (CE-ORL-HNS) was held in Barcelona.
This Confederation was formed as a result of concrete needs for association of these two kinder sectors.
Around 4,000 participants from Europe and the world took part in work of the Congress, and among them were around 20 of our doctors, specialists in ORL from Belgrade, Novi Sad, Zrenjanin, Sremska Mitrovica, Valjevo, Niš and Subotica.
In the lectures that took place simultaneously in 17 halls, new cognitions from allergology, audiology, basic testing, cochlear implants and middle ear implants, laryngology, neuro-otology and vestibular system, oncology, head and neck surgery, mouth cavity, larynx and trachea, ear and facial nerve surgery, otoneurology and scull base surgery, children's otorhinolaryngology, foniatria, plastic, aesthetic and reconstructive surgery, rhinology, salivary glands surgery, snoring and obstructive sleep apnea, thyroid and parathyroid glands diseases were presented.
MMA's Otorhinolaryngology Clinic was presented at this Congress by 7 doctors, 1 doctor and 1 defectologist with 5 poster presentations and one oral lecture which covered a wide specter of topics in the sphere of otorhinolaryngology. In their lectures, our experts looked back on the problems in laryngology, an area in which they presented results of the use of auto florescence in the diagnostics of larynx lesions, a current problem that today occupies great attention of Otorhinolaryngologists around the world. Among the interesting topics are rare mesenchymal tumors of the larynx, which were presented with a case show of a series of 3 patients treated over the past two years in our establishment, then a rare case of unilateral enlargement of the tonsils caused by Actinomycosis. Two papers entered the domain of rhinology with their theme. One of them presented a correlation of the level of cytokine in the nose excretion in a patient with nose polyposis with and without the asthma, and the other presented a rare case of the growth of angiofibroma from the median nasal shell through an immunohistochemical study. A paper on testing of expression of e-cadherin in cholesteatoma was dedicated to otology.
We can conclude from the given that spheres of our experts' interest were diverse, and a multidisciplinary approach to solution of these problems came to the fore.